January 19, 2021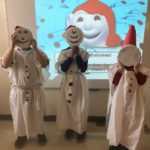 Spaulding Academy & Family Services (formerly Spaulding Youth Center) held its annual Multicultural Celebration – virtually – before the holiday break. All 12 classrooms at the Spaulding Academy spent weeks studying different cultural celebrations, including Diwali, France's Bastille Day, Hanukkah, Hawaii's Merrie Monarch Festival, Japan's Children's Day, Mexico's Day of the Dead, Scotland's Hogmanay, Thailand's ...
Read More
Interested in Learning More About Our Vibrant Campus?
If you are interested in an insider's view of a day in the life of Spaulding Academy & Family Services, we recommend visiting our online photo gallery or our video gallery. These are updated weekly so keep checking back for more great Spaulding moments!