Creativity Reigns at 2021 Arts Festival
June 09, 2021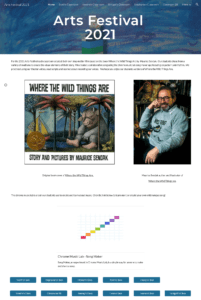 With COVID-19 precautions still in place, the 2021 Spaulding Academy & Family Services Arts Festival didn't have guests, visiting artists or musicians – but the virtual event was still bursting with imagination, fun, and excitement. Each of the eleven classrooms – ranging from elementary through high school students – created and produced its own stop motion film based on the book, Where the Wild Things Are, by Maurice Sendak.
Led by Art and Music Teacher Robyn A. Allen, students selected mediums ranging from clay and drawings to Legos and candy to design the backgrounds and visual elements of their videos. They interpreted the story and retold it in their own ways, taking pictures of each character movement that made it seem like video once combined. Each class took an average of 40 still photos to develop their three-minute videos.
Some videos featured special effects and student narration. Using the Google Chrome Music Lab and Song Maker, Allen helped each class develop a collaborative song for the "wild rumpus" section of the story.
"Our students exhibited a great amount of teamwork throughout this project," Allen said. "They were able to compromise jobs, take turns, and brainstorm together beautifully to compose their final products."
Classrooms celebrated the 2021 Arts Festival by viewing each other's videos. "They loved seeing how all their other schoolmates told the story," Allen shared.
To view the various Where the Wild Things Are video interpretations, visit Arts Festival 2021 (google.com).
Interested in Learning More About Our Vibrant Campus?
If you are interested in an insider's view of a day in the life of Spaulding Academy & Family Services, we recommend visiting our online photo gallery or our video gallery. These are updated weekly so keep checking back for more great Spaulding moments!