Spaulding Academy & Family Services Children Boost Autism Awareness
June 21, 2021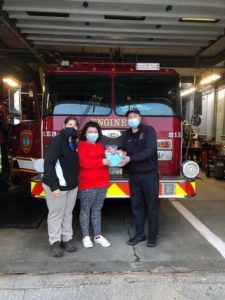 Northfield, NH – In recognition of National Autism Acceptance Month in April, the children and staff of Spaulding Academy & Family Services (formerly Spaulding Youth Center) planned visits to several local organizations to increase knowledge and understanding of autism. The group met with the Belknap Mill Quilters Group, the Tilton and Northfield Police Departments, and Tilton-Northfield Fire and EMS.
Spaulding Academy & Family Services embraced the theme "Lead with Kindness, Learn with Kindness" to promote strategies for everyone to successfully communicate and build relationships with individuals with autism. This was accomplished in participation with the Autism Society's "Celebrate Differences" campaign.
"The children learning and living at Spaulding are all special in their own individual ways, and this community event highlights what an amazing impact they make together as a group," said Amanda Champagne, Executive Director of Family Services. "Our staff is so proud of our children's willingness to promote acceptance and awareness of autism in Spaulding's local community."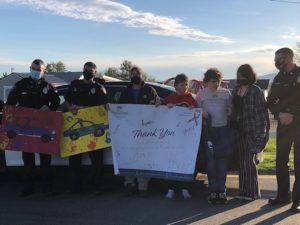 The group presented each organization with appreciation banners signed by the children, artwork created on campus and homemade baked goods. To learn more about National Autism Acceptance Month, visit autism-society.org. For more information about Spaulding Academy & Family Services and its comprehensive programs and services, visit SpauldingServices.org.
About Spaulding Academy & Family Services
Spaulding Academy & Family Services is a leading provider of educational, residential, therapeutic and community-based programs and services for families, and children and youth with neurological, emotional, behavioral, learning or developmental challenges, including Autism Spectrum Disorder and those who have experienced significant trauma, abuse or neglect. Established in 1871, Spaulding Academy & Family Services is a tax-exempt 501(c)(3) nonprofit that was formerly known as Spaulding Youth Center since 1958. Our scenic hilltop campus is located on over 500 acres in Northfield, NH and welcomes boys and girls from ages 4 to 21 from around the state of New Hampshire and beyond. In addition to programs provided on our Northfield campus, Spaulding's community-based programs include foster family licensing, Individual Service Option (ISO) foster care, ISO in-home services, child health support services, and more for children ages 0 to 20 and their family. For information about Spaulding Academy & Family Services, visit www.SpauldingServices.org.
Click here to download the official press release.
Click here to read the Concord Monitor's feature story about autism and our children's awareness efforts, here for front-page coverage in the Winnisquam Echo, and here for inclusion in July's Northfield News. For print-ready PDFs, click here for the Concord Monitor, here for the Winnisquam Echo, and here for the Northfield News.
Interested in Learning More About Our Vibrant Campus?
If you are interested in an insider's view of a day in the life of Spaulding Academy & Family Services, we recommend visiting our online photo gallery or our video gallery. These are updated weekly so keep checking back for more great Spaulding moments!