Dear Friends of Spaulding Academy & Family Services,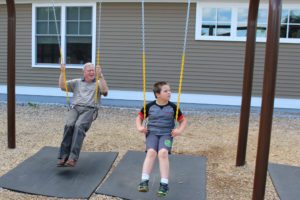 At some point during Fiscal Year 2022, Spaulding Academy & Family Services tentatively emerged from its COVID-19-mandated seclusion. Like leaving from hibernation, we poked our heads out, sniffed around a little bit, and then declared that it was time to emerge from our insular environment and reengage with the outside world.
The world had changed, and we responded with resiliency, ingenuity, and flexibility. We adapted to the needs of our children by expanding our footprint and our programs – and by supporting our staff in a variety of ways to best meet their needs.
Perhaps nothing was as impactful as the shifting structure of the labor market. Finding and retaining staff was a constant battle throughout the year, a challenge which continues. We counterattacked the labor market by overhauling our salary structure, expanding our benefits programs, reevaluating our training programs, and reengineering our training model. With a resolute commitment to the kids we serve, and in step with the new residential contracts, we aggressively expanded our wraparound services for all our programs, including nursing, speech & language, occupational therapy, physical therapy, and psychiatric services.
2022 was a critical time of renewal and expansion for the organization. Not only did we celebrate our 150th anniversary with a nostalgic look back at where we've been, but we focused aggressively on where we're going.
We responded to the changing needs of our students and staff with a decision to invest in our infrastructure. We undertook the process of securing tax-exempt bond financing, so that we could significantly expand our school building both in size and scope of services. In addition, we broke ground on what will be one of New England's largest adaptive playgrounds, a place where all kids can play. Buoyed by an extraordinarily generous gift from a former trustee, we also embarked on planning an expansion of our Residential program to support the children in our medically complex program. Our Community-Based foster care programs moved offsite, where they are better able to interact with the critical network of foster parents we support.
We are "Spaulding Strong," and we are just scratching the surface of the opportunities that lie before us. With new leadership in Spaulding Academy and in Residential program areas, we are positioning the organization to meet the needs of the future. We have accomplished so much during these past few years and know the best is yet to come.
We are grateful to all our wonderful and dedicated supporters. Your continued and extraordinary generosity allows us to fulfill our mission of giving every child a childhood.
Thank you.
Todd C. Emmons, President & CEO
Michael F. Ventura, Chair, Board of Directors