Dear Friends,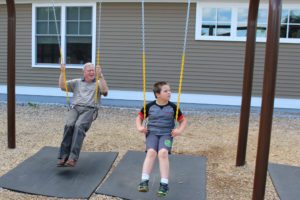 For all of us, 2021 has been a year of challenge and change as we have navigated and adapted to events in our world that we could not have imagined. The human spirit is a remarkable thing. At Spaulding Academy & Family Services, we see it every day in the behavior of our kids and the attitudes of our staff. So, it is with a tremendous sense of pride that we reflect on 2021 and look forward with confidence to 2022.
To be sure, the past year has not always been easy, but from the crucible of change we have prospered, as we have learned much and found ways to become better. While the world around us was changing, we changed, too. Not only did we adapt to the needs of our children by expanding our footprint and our programs, but we also supported our staff in a variety of ways to meet their needs.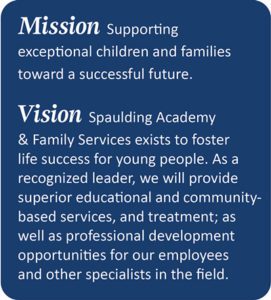 This annual report provides an opportunity to reflect on the past year and the implemented changes that define it. There were many defining moments during the year, but perhaps none more significant than expanding our services to provide a home to children who just needed a place to live, while continuing to attend public school and participate in school-related activities. For me, my ultimate 2021 moment was when one of our kids exclaimed, "I'm home!" upon arriving at our newly opened Wednesday House. What many of us take for granted is a life-changing event for others.
We were also able to establish an off-site headquarters for our Community Based Program on Shaker Road. These dedicated staff work tirelessly to find foster care and forever homes for kids. For this team in particular, the year was a challenge as family outreach and visits were not possible. And yet, the need for foster care does not lessen despite an ongoing pandemic. Just as we have been doing for 150 years, we found ways to ensure that these kids are safely in homes.
It isn't possible to reflect on 2021 without noting that the Department of Children Youth & Families (DCYF) embarked on a new model for placing children throughout the State of New Hampshire. For them and for all residential care providers, this was a sea change in how residential children are placed. This provided us with a wonderful opportunity to learn and to pivot, with several results that will have a lasting and positive impact upon us and those who we serve.
First, we applied for and were awarded contracts in four distinct programs, including a medically intensive program. Another game changer. We are looking forward to expanding our residential care to include children with certain medical challenges who would otherwise have placements outside of their preferred region. To support these children, as well as those in our other programs, we have significantly added to our health care and support services areas. Finally, in keeping with our own pursuit of excellence and to support the parameters of the state's contracting process, we applied for (and since the close of the fiscal year, secured) accreditation by the Commission on Accreditation of Rehabilitation Facilities (CARF), an international organization recognizing providers for their achievement in meeting high standards in a variety of categories, including Child and Youth Services.
We are deeply proud of this and all our accomplishments during 2021. With so much achieved this past year, we look forward to the future, poised for even greater change and success in 2022.
We could not close without thanking our many wonderful and dedicated supporters. We are grateful to all who assist us in our mission to provide for those who most need our help. Your continued and extraordinary generosity allows us to do the work that we do. We offer a heartfelt "Thank You" to each and every one of you!
Todd C. Emmons, President & CEO
Michael F. Ventura, Chair, Board of Directors