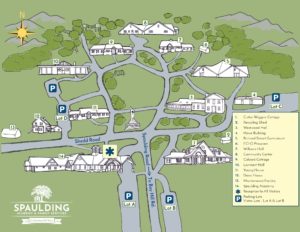 Located atop a scenic hill surrounded by gorgeous 360 degree views of quintessential New England mountain ranges.
Campus resources include a high-performance school, arts building, gymnasium, dining hall, residential cottages, behavioral health center, administrative building, playgrounds, recreational fields, a ropes and challenge course, walking trails, gardens and more.
Click here to download a PDF of the Spaulding Academy & Family Services campus map.
Have a Question?
If you have further questions or would like to schedule a campus tour, please contact Nick Silva, Director of Admissions at nsilva@SpauldingServices.org or 603-286-8901 x204.