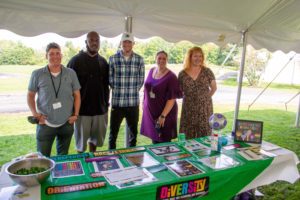 Spaulding Academy & Family Services is committed to fostering and maintaining an environment that is open and welcoming to all children, families, staff, community partners, and visitors – regardless of race, ethnicity, religion, gender, sexual orientation, and gender identity. Leadership works to ensure these values are upheld and that the organization continues to evolve in improving prevention measures and responses to issues that may arise related to discrimination and hate speech.
As part of these efforts, Spaulding leadership partners with the staff-led Committee for Diversity, Equity and Inclusion. Members include staff from various on-campus teams, who work to engage their peers in education and open dialogue on issues related to DEI.
The Committee for Diversity, Equity and Inclusion offered information and its "Diversity Ball" game to help interested participants discuss experiences and thoughts on diversity and inclusion issues during the 2021 Employee Appreciation Day.