January 27, 2016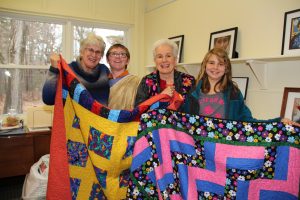 Spaulding Youth Center students were treated to some homemade comfort for the holidays by the Belknap Mill Quilt Guild. After contacting Spaulding in early December, this 106‐member organization pledged to provide handmade comfort quilts for the holidays. A few short weeks later, Guild representatives visited the Northfield, NH campus to hand‐deliver 23 quilts for Spaulding ...
Read More
Interested in Learning More About Our Vibrant Campus?
If you are interested in an insider's view of a day in the life of Spaulding Academy & Family Services, we recommend visiting our online photo gallery or our video gallery. These are updated weekly so keep checking back for more great Spaulding moments!