Tonya Splett Receives Spaulding Youth Center's Q2 Spaulding Spirit Award
August 11, 2017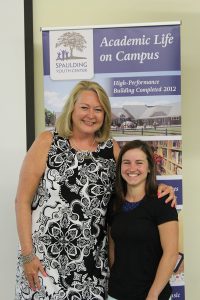 Northfield, NH – Spaulding Youth Center is pleased to present its Q2 Spaulding Spirit Award to Tonya Splett, Residential Assistant III. The Spaulding Spirit Award honors employees and acknowledges their hard work.
This peer-nominated award is given at each quarterly staff meeting to a staff member who exemplifies Spaulding Spirit and makes peers proud to be working by their side. In Tonya's case, she was nominated by several of her peers, showing the positive impression she has made on her coworkers.
Tonya was chosen as the Q2 Spirit Award recipient because she brings a positive attitude to each day, displaying a great work ethic. She is a creative worker who is constantly coming up with new activities for students. She treats staff and students with respect and makes a difference in the lives of all the students' she works with.
"Tonya always thinks outside the box. She is a real go-getter and its pleasure to work alongside her," said her peers Nathaniel Penninger, Wally Hall and Liz MacLeod. "We are lucky to have her here at Spaulding Youth Center. Tonya is completely deserving of this award!"
About Spaulding Youth Center
Spaulding Youth Center is a leading provider of services for children and youth with neurological, emotional, behavioral, learning and/or developmental challenges including Autism Spectrum Disorder. Services include academic, behavioral health, residential, foster care, health and wellness and family support. Spaulding Youth Center Foundation is a tax-exempt 501 (c)(3) nonprofit. For information about Spaulding Youth Center, visit www.spauldingyouthcenter.org.
Interested in Learning More About Our Vibrant Campus?
If you are interested in an insider's view of a day in the life of Spaulding Academy & Family Services, we recommend visiting our online photo gallery or our video gallery. These are updated weekly so keep checking back for more great Spaulding moments!