11th Annual National Foster Care Month Celebration
May 11, 2017
Northfield, NH – Spaulding Youth Center was proud to serve as the host location for the sixth consecutive year for the 11th Annual National Foster Care Month Celebration on Saturday, May 6th. The celebration was planned and presented by the New Hampshire Division of Children, Youth and Families (DCYF) in cooperation with Wendy's Wonderful Kids, Bethany Christian Services of New England and the NH Foster & Adoptive Parent Association. Foster and adoptive families from across New Hampshire were invited to attend this event filled with outdoor activities in celebration of National Foster Care Month.
"Spaulding Youth Center has been happy to host this special event for the past six years," shared Pat Seaward-Salvati, Director of Admissions. "As a licensed child placing and child care agency, Spaulding is a perfect fit as a venue for this state-wide celebration." Despite a rainy forecast, over 250 guests and volunteers attended the event, including the Franklin Elks Lodge 1280 who generously donated food and grilled 210 hamburgers and 180 hot dogs for all participants.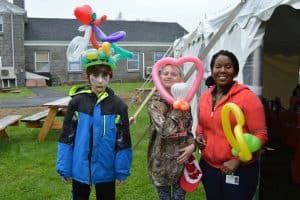 Starting at 10:30am, the Annual National Foster Care Month Celebration registration opened, welcoming invited guests to the Spaulding Youth Center campus. Upon arrival, each child received raffle tickets for special door prize drawings. From there, participants could enjoy a wide variety of activities offered by Bethany Christian Services of New England, DCYF, Squam Lake Science Center, Mo the Clown, Camp Hawk Eye, Life is Good Playmakers, Rise Again Outreach, and the 4-H Petting Zoo. Attendees had the opportunity to learn how to play chess, create arts and crafts, enjoy face painting, primp with painted nails or styled hair, jump in the bouncy house, take a family photo, learn about unique animals, enjoy treats such as snow cones, cotton candy, and ice cream sundaes donated by the Common Man Restaurant as well as listen to storyteller and author Duncan McDougall of Children's Literacy Foundation. Mr. McDougall generously donated two brand new, age-appropriate books to every child present as well as a box of new books to Spaulding Youth Center. Children also enjoyed keeping active on the climbing wall set up by Spaulding Youth Center's Experiential Challenges Outdoors (EChO) Program leaders.
For those interested in learning more about foster and adoptive opportunities, please contact Dawn Fontaine at DFontaine@SpauldingYouthCenter.org or 603-286-8901 x285.
Interested in Learning More About Our Vibrant Campus?
If you are interested in an insider's view of a day in the life of Spaulding Academy & Family Services, we recommend visiting our online photo gallery or our video gallery. These are updated weekly so keep checking back for more great Spaulding moments!