Bicycle Donations from Goodwill's Recycled Cycles!
May 15, 2017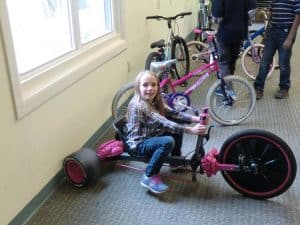 Northfield, NH – Spaulding Youth Center is excited to announce it has received twenty-two (22) bicycles for student and staff use, generously donated by Goodwill Industries of Northern New England's Recycled Cycles program.
Recycled Cycles was developed in 2013 when Goodwill Industries of Northern New England teamed up with the Central NH Bicycling Coalition (CNHBC) to create job training solutions for individuals who face barriers to employment. Participants in the New Hampshire program benefit by learning transferable skills involved in repairing and maintaining recycled bicycles.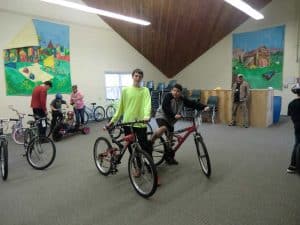 The bicycles are then sold or donated to non-profit organizations and charitable causes.
Spaulding Youth Center was selected for donation and Goodwill prepared an assortment of 22 age-appropriate bicycles for use on campus by the residential cottages. After receiving a tour of the bicycle restoration shop and learning more about this unique program, Spaulding staff loaded up the bicycles for their trip to campus. The collection of bicycles was revealed to students with much excitement and a little disbelief that these bikes were all for them. Students selected their favorite bikes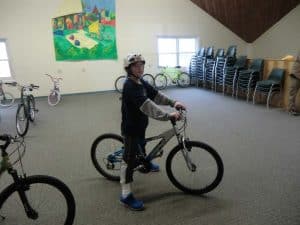 from the collection and immediately completed multiple laps around the quad of the Spaulding Youth Center campus.
"We are so appreciative of this generous donation," said Susan Ryan, Chief Executive Officer and President at Spaulding Youth Center. "Each cottage on our campus received some new bicycles, including adult-sized bikes for staff to ride along with the children. With the recent arrival of warm weather, our students and staff now have the opportunity to schedule cooperative rides, which they could never do before."
For more information about Goodwill Industries of Northern New England's Recycled Cycles program, visit goodwillnne.org/workforce/recycled-cycles/.
Click here to download the official press release
Interested in Learning More About Our Vibrant Campus?
If you are interested in an insider's view of a day in the life of Spaulding Academy & Family Services, we recommend visiting our online photo gallery or our video gallery. These are updated weekly so keep checking back for more great Spaulding moments!