The Adaptive Playground at Spaulding Academy & Family Services Featured on NH Chronicle
October 12, 2023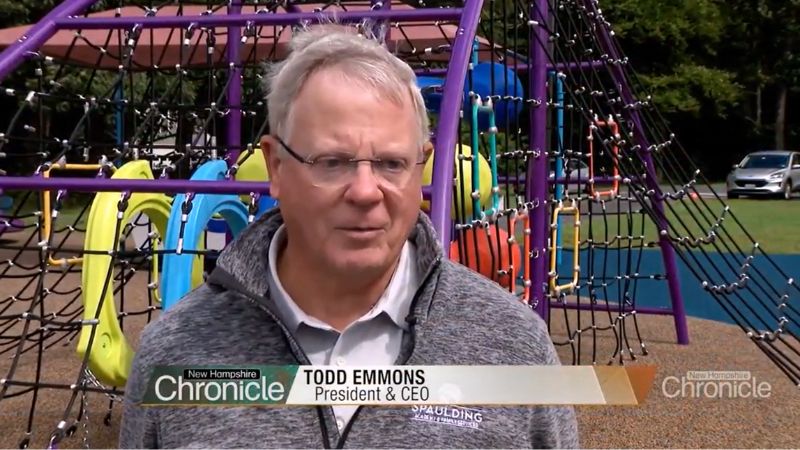 At Spaulding Academy & Family Services, every child's unique abilities are not only acknowledged but celebrated. We are thrilled to extend our heartfelt appreciation to WMUR-TV, NH Chronicle, Producer Jean Mackin, and Videographer Paul Falco for their recent visit to our campus, where they highlighted the remarkable adaptive playground at Spaulding Academy & Family Services. Click here to watch the full NH Chronicle segment on the WMUR website.
Spaulding believes that all children, regardless of their developmental, emotional, medical, or physical abilities, deserve to play, learn, and grow together in an inclusive environment. To bring this vision to life, we've proudly unveiled one of the largest adaptive playgrounds in New England, spanning an impressive 10,308 square feet. Nestled behind Lambert Building on our campus, this playground goes beyond what many of our children ever imagined possible.
Join us in this exciting journey of creating a space where friends can play without barriers and watch the video below to get an inside look at our extraordinary playground. For those of you who prefer reading, the full video transcript is also available for your convenience.
Click here to watch the full NH Chronicle segment.
They love the swings.
Joy is bursting from every corner of this playground. Every swing, every slide, every time a child feels on top of the world. Thanks to the adaptive playground at Spaulding Academy and Family Services in Northfield, now all kids can play.
And that delight is felt by the adults here too.
Truly a field of dreams for so many of these kids who had never been on a swing.
It was life changing. They come to us because of their struggles and the challenge that they do face. We're lucky to be able to do what we do.
Physically challenge students, like 15-year-old Gunnar, roll onto the playground in a wheelchair, where he will take flight. With some helping hands and a little push, Gunnar is swinging.
He's never been able to participate in regular playgrounds like the other kids. Gunnar was born three months early and he's diagnosed with cerebral palsy spastic quadriplegia. He really is a miracle baby. We're very limited on what we can do socially with other kids and this has just been amazing. It just means so much and the kids are having a blast and interacting with each other. It's all about the kids and making them happy.
Just add this to Gunnar's sports resume. He also participates in other outdoor activities, like sit down skiing and sledding here at the winter carnival. In warmer months, he's on the water paddleboarding and biking. That's Outdoor Education Coordinator, Jason Sterner, along for the ride.
When we actually saw it built, we were blown away. When we saw the kids come over to see, it was like Christmas times ten.
Jason helped design the playground to help students improve motor skills, balance, strength, confidence.
We might have a student in a wheelchair come out and it's great that it works for them, but it also is great because their able-body peers can jump on it with them, so they are really included.
This is much different than the traditional playgrounds nearby, with mulch underneath underfoot. There is a cushiony surface here to support the inclusive equipment, along with the courage to take one challenges like this. You better believe the staff is taking recess time themselves to soak in these smiles.
Our motto is to let children have a childhood, and what better way than on a playground. A playground that all of the kids, kids in wheelchairs, kids that haven't had the opportunity to play, they don't know how to play on a playground.
It's kind of overwhelming. In my 24 years here, you always dreamed of having a playground like this where all the children could come play together.
It is more than a playground. It's a place of healing, it's a place of fun, learning. A place of peace I think is the biggest and that's what our kids need the most.
Having a playground you can play on is part of having a childhood. To have all this adaptive equipment that different levels and different pieces that each kid can access, the beauty of this playground is that each kids can ask for help, whether it's a staff member or another child.
Everyone is learning that sometimes when the obstacle seems too big, a little encouragement goes a long, long way.
Interested in Learning More About Our Vibrant Campus?
If you are interested in an insider's view of a day in the life of Spaulding Academy & Family Services, we recommend visiting our online photo gallery or our video gallery. These are updated weekly so keep checking back for more great Spaulding moments!