More than 10,300 square feet of fun for everyone!
We serve children of all developmental, emotional, medical, and physical abilities at Spaulding Academy & Family Services. To make our campus truly accessible and inclusive for every child – where friends can play together without barriers – we are developing one of the largest adaptive playgrounds in New England!
This 10,308 square foot (129′ 6″ x 79′ 6″) playground will be located behind the Lambert Building right on Spaulding campus and will transform what many of our children ever imagined possible.
Through careful research and collaboration with our partners, Miracle Recreation and Pettinelli & Associates, we have developed a blueprint for our selected adaptive equipment that will create joy, build confidence and skills, and enhance friendships for years to come.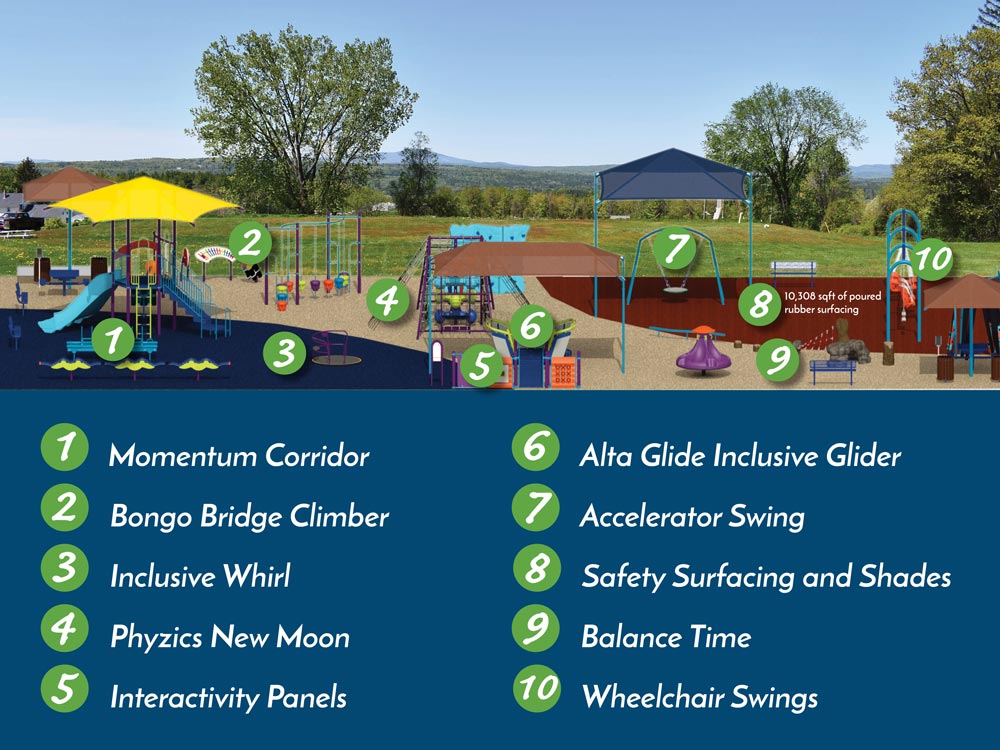 Momentum Corridor – Designed at wheelchair transfer height, this horizontal table features overhead bars for kids to pull themselves along gentle rollers for an enjoyable tactile experience.

Reflex – Promoting balance and coordination, this unique structure allows up to 15 seated kids to share the fun of movement and cooperation.

Bongo Bridge Climber – Kids can cross this bridge made of large individual bongo-shaped steps, promoting balance and coordination as they move from one section of play equipment to another.
Inclusive Whirl –This multi-person spinner is flush to provide direct-from-ground accessibility and includes the capacity for two wheelchairs and a seat for caregivers or other children.
Phyzics New Moon – Many kids can climb, play, sit, and rest at the same time on this frame net climber that provides a variety of challenge levels, develops motor skills, and supports sensory awareness.
Interactivity Panels – Tic-Tac-Toe – This interactive game panel encourages creative group play with oversized, tactile-friendly pieces.
Alta Glide Inclusive Glider – This wheelchair-accessible glider provides up to 10 children the opportunity to enjoy sensory movement on a moving platform that includes two benches and safety walls.
Accelerator Swing – Featuring a large disc seat mounted on a frame, this swing allows multiple children to share the fun and freedom of a group ride through the air.
Safety Surfacing and Shades – The adaptative playground will feature wheelchair-friendly poured rubber surfacing, and sun protection shades provide strategic coverage for light and heat sensitivities.
Balance Time

Curved Balance Beam – This alternatively-shaped balance beam promotes balance and sensory skills.
Stump Steppers – These life-like steppers provide a safe, nature-inspired way to practice balance.

Wheelchair Swings – Everyone can swing now! These inclusive swings make it possible for all children to enjoy the thrill of the swing while benefiting from safety adaptations.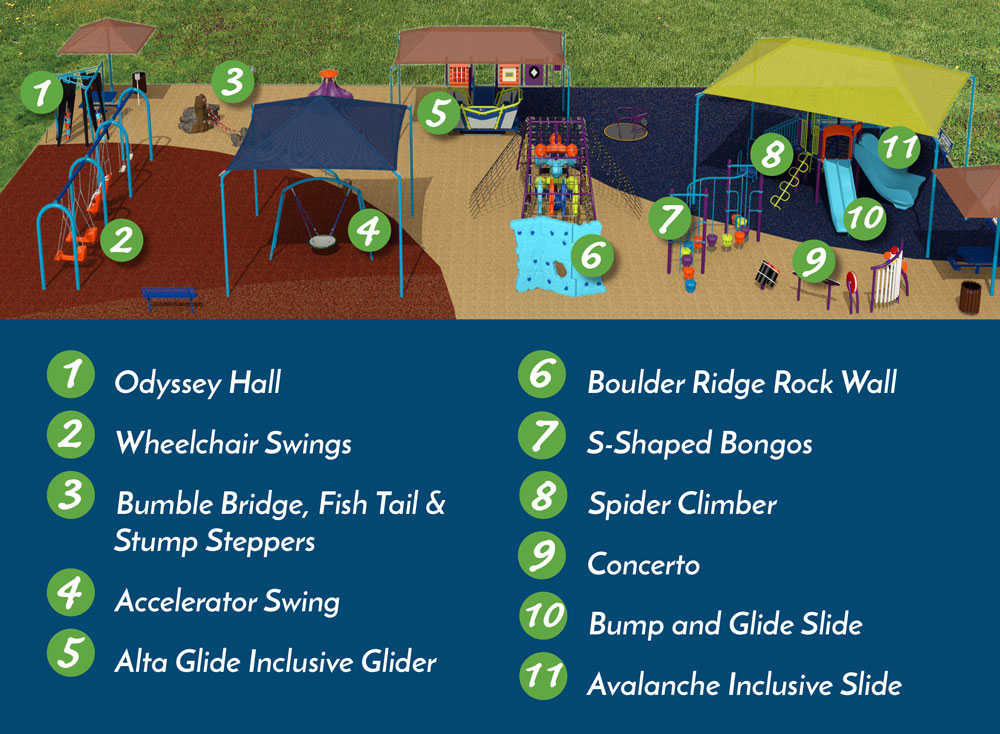 Odyssey Hall – This sensory environment offers a variety of play paths for children of all abilities, with hanging flex treads for touch and vertical moveable panels for texture.
Wheelchair Swings – Everyone can swing now! These inclusive swings make it possible for all children to enjoy the thrill of the swing while benefiting from safety adaptations.
Bumble Bridge and Fish Tail – This special bridge and balancer provide creative climbing opportunities and tactile feedback for kids.
Accelerator Swing
Alta Glide inclusive Glider
Boulder Ridge Rock Wall – Aspiring mountain climbers can practice their strategy on this accommodating tactile rock wall featuring a variety of toe and hand holds.
S-Shaped Bongo –
Spider Climber –Children are encouraged to climb strategically to a platform that lends even more play opportunities on this special structure.

Curved Cable/Rope Climber – Sensory play comes alive with this mini ropes course.

Concerto – The playground becomes a mini orchestra with outdoor musical equipment featuring tall chimes, spinning cabasas of different sizes, and vibes – a type of interactive xylophone.

Captivating Chimes – The Chime Panel offers sensory-friendly, captivating chimes for kids to make their own music.

Bump and Glide Slide –Kids can slide parallel to each other on this fun structure.
Avalanche Inclusive Slide– This uniquely designed slide lets kids access the slide from the ground and pull themselves up to their desired locations using the side rails.
We need your partnership to bring this adaptive playground to life.
We humbly request your support in any amount, and welcome unrestricted gifts or those to fund specific equipment. Any amount will have a tangible impact on our children's lives today and for years to come.
To contribute to happy childhood memories, please donate online at SpauldingServices.org/give.
If you would like to sponsor one of our adaptive components, please contact Todd Emmons, President & CEO, at TEmmons@SpauldingServices.org or 603-286-8901 ext. 106. Thank you for joining us on this journey to bring everyone to the playground! Visit this page often to keep an eye on the progress of our playground.