Every Child Deserves A Childhood
June 27, 2023
Our youngest resident to date, Jamie was just four years old when he arrived on campus in February 2020. In his four short years, he survived abuse and neglect, often fending for himself or in tandem with his four siblings. Although his fight for life sustained him until he could be brought to the safety of Spaulding Academy & Family Services, his trauma from severe neglect, trauma and food insecurity were negatively affecting his physical and emotional development.
During his initial months at Spaulding, Jamie required a 1:1 aide throughout his entire day both at the Academy and in the residential cottage. This dedicated individual not only kept Jamie safe with his decisions and actions, but also helped teach him basic learning skills, like how to use a spoon, as well as work on gross motor skills to develop typical four-year-old muscle strength and practice verbal skills which were virtually non-existent. With these foundational components underway, Jamie worked with a behaviorist and clinician to focus on sensory management, impulse control, and emotional regulation. Essentially, he had to start from the beginning to learn about emotions, zones of regulation, safe environments, standard roles for adults and kids, and how to play without worry – basically, how to just be a kid!
At Spaulding Academy, Jamie needed a lot of support to prepare him for academic success. His teacher and treatment team created a plan of services to meet him where he was and provide the guidance and tools to accommodate his challenges. The structure and regularity of the school schedule along with his emerging social and communication skills created an optimal opportunity for Jamie. As his verbal skills developed, he realized there was so much for him to learn and welcomed it with his trademark enthusiasm.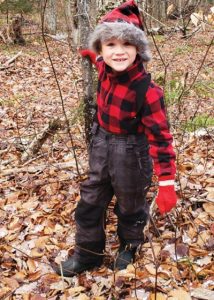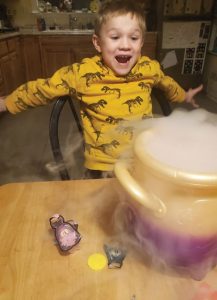 Armed with these skills and a new path toward his future, Jamie was ready to find his forever family; however, his history of abuse and trauma was complicated, so the path was still full of many uncertainties. Fortunately, Jamie's name caught the attention of a pair of empty nesters. They had successfully raised well-adjusted children, along with fostering numerous children and gaining valuable respite care experience. Intrigued by Jamie's joyful and infectious nature, they were eager to learn more.
After meeting initially in December 2021, Jamie, Angie and Moe visited frequently to become acquainted and begin building a lasting bond. This quality time lasted ten months before Jamie was approved to move into their home. An initial round of boundary testing and routine settling occurred, but all three persevered to become a budding, loving family. Through the process of making their home into his home, Jamie was able to experience an authentic and supportive relationship with trusted adults in a stable and safe environment.
As a testament to his hard work and remarkable progress, Jamie attends (and excels!) at a public school, rides the school bus every day, reads a book to his parents every night, attends birthday parties with school friends, enjoyed a family vacation to Florida, and is currently raising 7 fish babies in his bedroom fish tank! After ten months of visits and seven months of living with Angie and Moe, Jamie was officially adopted into his forever home in May 2023.
For this remarkable day, Jamie's older brother as well as a few special Spaulding connections attended the adoption proceedings to be a part of the celebration. While Angie and Moe are proud to be Jamie's forever family, they acknowledge that they were not his first family. Jamie is available to his siblings whenever possible so that he can maintain these relationships and they also create opportunities for Jamie to interact with Spaulding connections who were instrumental in helping him find his way forward. "People aren't meant to just leave your life," shared Angie. "These connections are a part of who Jamie has become and that is a very special place to be."