Winter Carnival
March 23, 2023
Many thanks to the Winnisquam Echo for sharing this news with our community. Check out this coverage in the Winnisquam Echo or click the publication name to download a print-ready PDF: Winnisquam Echo.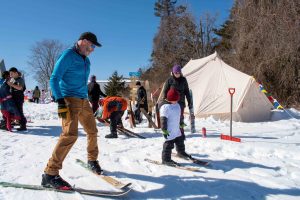 Spaulding Academy & Family Services in Northfield recently held its annual Winter Carnival, an outdoor experiential learning event hosted by the Academy's Experiential Challenges Outdoors (EChO) program. Leading up to this year's event, children built their own sleds and decorated them using the 2023 "Choose Love" theme. The Jesse Lewis Choose Love movement is a Social and Emotional Learning (SEL) program that promotes the intentional change of angry thoughts into ones of love and compassion using the four elements of the Choose Love Formula™: Courage + Gratitude + Forgiveness + Compassion in Action = Choosing Love.
Additional Winter Carnival events included a tube park, sledding, ski demos, a snowshoe race, snow art and building, and snow croquet. Children also had the opportunity to participate in carnival games including a snowball toss, a "catch-a-duck" fishing activity, and a moose ring toss. Hot chocolate and cookies were available in Spaulding's brand-new canvas bell tent. This event was a great way for the school community to enjoy outdoor educational play for all ages.
For more information about Spaulding Academy & Family Services, visit SpauldingServices.org.
Interested in Learning More About Our Vibrant Campus?
If you are interested in an insider's view of a day in the life of Spaulding Academy & Family Services, we recommend visiting our online photo gallery or our video gallery. These are updated weekly so keep checking back for more great Spaulding moments!