A Trained Eye on the Future
December 01, 2016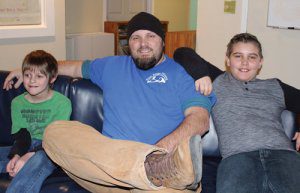 After returning from active duty in Iraq and then spending a few years as a correctional officer, Jason Perkins started at Spaulding Youth Center in 2010 as a Residential Assistant in Cutter-Wiggins. Since then, his work ethic and accountability has enabled him to transition into an overnight role.
Once the students are tucked in for the night, he starts his second job as a College for America student. After just five short months, he earned his Associate degree and then immediately began the Bachelor of Arts in Healthcare Management curriculum. Recently, College for America elected Jason as a student ambassador. Out of 2,400 students, he is one of 45 student ambassadors who assist students in the online community, answer questions on projects and motivate students to achieve their goals. And he's not stopping there: Jason already has his eye on the Master of Clinical Social Work program at SNHU. His goal is to become a licensed clinician at Spaulding.
On a personal note, he has been happily married for 12 years, and enjoys spending times with his two children, Ashley (6) and Liam (9mos). Jason is also a certified scuba diver and ice diver, with just three more classes to be a master diver.
An avid outdoorsman, he also loves bow hunting, hiking, riding his motorcycle, and anything to do with the mountains, as well as holds a hang gliding license. His other favorite hobby is wood working – he is currently working on a 12-foot cedar strip canoe!
Click here to read about just one of Jason's awesome diving finds that made the Laconia Daily Sun!