Tonya Splett – Spaulding Spirit Award Winner!
October 19, 2017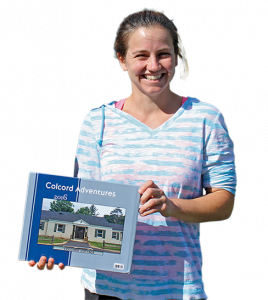 The Spaulding Spirit Award is a peer‐nominated award given to a staff member who exemplifies Spaulding Spirit and makes peers proud to be working by their side. We are thrilled to announce that Tonya Splett has been chosen for the Spaulding Spirit Award for Quarter 2 of 2017! Tonya has been part of the Spaulding family for 7 years. "Tonya always thinks outside the box. She is a real go-getter and its pleasure to work alongside her," said her peers Nathaniel Penninger, Wally Hall and Liz MacLeod. "We are lucky to have her here at Spaulding Youth Center. Tonya is completely deserving of this award!"
Before her time at Spaulding, Tonya spent over two years visiting her mother at Crotched Mountain Rehabilitation Center, where she was being treated for a brain injury. It was there Tonya found her desire to research becoming an occupational therapist. With her background in early childhood education, it was no question whether or not Tonya would be a great fit at Spaulding.
Tonya was hired as a substitute in Cutter Wiggins in 2010 and eventually became a 1-to-1 for a student, a shift trainer, a counselor, a shift leader as well as an overnight worker. Currently, Tonya works as a shift leader in Colcord and leads activities for students and staff.
"My favorite thing about working at Spaulding is being able to take the kids on trips in the community. I love planning activities ‐ the most recent being a trip to Canobie Lake Park ‐ and experiencing the outing through the eyes of our students," said Tonya. " Spaulding strongly focuses on relationship‐building, respect for your colleagues and growing professionally as a team. At the end of the day, the number one more important aspect of Spaulding is the kids and caring for each and every one of them."
In her spare time, Tonya loves spending time with her 8 year‐old daughter and taking trips to amusement parks and the beach. She also enjoys scrapbooking even creates personal scrapbooks for Spaulding students when they're ready to move on. Tonya takes pride in being the same person at home as she is at Spaulding ‐‐ a big kid who loves to have fun and make a difference.