The Success of a Special Class of 2018 Graduate
June 30, 2018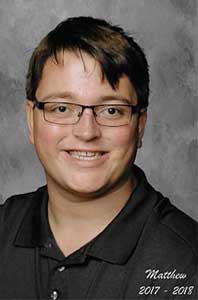 I am so proud of Matthew. In his latest teacher conferences, his high school teachers shared all positive feedback about my son: polite, a role model, a great kid, and a hard worker. These are incredible compliments considering where he was just ten years ago. After struggling with emotional and behavioral challenges in early childhood, Matthew was diagnosed in the second grade with bipolar disorder. Within a year, his school district referred him to a private school which could better meet his needs.
After achieving successes over the next three years, Matthew's transition back to public school was complicated by our family moving to a new town. With a new town came a new public school, resulting in more behavioral issues and a referral to another private school. Unfortunately, this school was not a fit for Matthew. His residential peers were ill-matched, his prescriptions were unbalanced, and while Matthew struggled, our family's frustration continued to grow. We just wanted a place for our son – a place for him to belong, learn and thrive.
After additional discussions, the school district referred Matthew to Spaulding Youth Center and we were impressed with the academic, therapy and residential services offered for kids just like Matthew. The admissions director listened to Matthew's story and recommended he be placed in a cottage with children diagnosed with Autism Spectrum Disorder. His admissions evaluation confirmed this diagnosis and became a turning point for Matthew. His lifelong incorrect diagnosis of bipolar disorder was overturned, and by living in the right residential environment, he truly thrived. He loved the bright, cheery atmosphere on campus and developed a deep and long-lasting respect for his teachers and paraprofessionals.
After a short time, Matthew graduated to Spaulding's day program, so he lived at home but attended classes on campus. After continued improvements, Matthew transitioned to a public high school in time to begin his sophomore year. Although I was anxious re-entering a public school, my son now had the necessary skills to overcome previous obstacles.
With a newfound confidence, Matthew approached the Special Education department on his own and made two requests: he wanted to ride in a traditional school bus and he did not want a paraprofessional. The department agreed to his requests if he could prove he was ready. Since that day, Matthew has succeeded to earn and maintain both privileges. However, Matthew's biggest achievement will be in June when he graduates from Goffstown High School with a high school diploma!
I could not be more grateful to the faculty and staff of Spaulding Youth Center for providing my son with the foundation he so desperately needed. Through your challenging educational curriculum, dedication to developing life skills and personalized approach to each student, Matthew has succeeded in public school, maintained friendships with his peers, and gained confidence and motivation. From the bottom of my heart, thank you for helping my son find his way to what is now a very bright future.