TD Bank Tilton Donates Pizza Party to Spaulding Youth Center
June 03, 2020
Northfield, NH – Spaulding Youth Center is happy to announce TD Bank of Tilton, New Hampshire arranged for a campus pizza party for its residential students and staff members.
TD Bank of Tilton reached out to Spaulding in hopes to recognize the dedication demonstrated by its employees during the current COVID-19 crisis. The store manager ordered pizzas from a local pizzeria to be delivered to the organization as a way to lift spirits for residential students and staff members during this time of uncertainty. Like many who are working the front lines during this pandemic, our staff are leaving the safety of their homes to report to work. Our residential students are still going into our school each day for their academics and our talented school staff are there to teach and support them. Because of the devoted staff, our children feel safe and supported during this uncertain time.
"We are so thankful for TD Bank of Tilton and their support during the pandemic," said Susan C. Ryan, President & CEO of Spaulding Youth Center. "Pizza is a favorite of our students and staff members, so everyone enjoyed this meal immensely. So many local businesses have demonstrated kindness and generosity throughout the uncertain time and TD Bank of Tilton is an excellent example how our community has rallied to support our organization. This pizza party was a fun way to treat our residential students and front-line staff members."
TD Bank is dedicated to helping its local communities during this time. to learn more about the corporation's efforts, please visit https://www.td.com/us/en/personal-banking/COVID-19/.
About Spaulding Youth Center
Spaulding Youth Center is a leading provider of services for children and youth with neurological, emotional, behavioral, learning and/or developmental challenges, including Autism Spectrum Disorder and those who have experienced significant trauma, abuse or neglect. Services include academic, residential, clinical, community based, foster care, and family support. Established in 1871 and known as Spaulding Youth Center since 1958, our scenic hilltop campus is located on over 500 acres in Northfield, NH and welcomes boys and girls from ages 4 to 21 from around the state of New Hampshire and beyond. Spaulding Youth Center is a tax-exempt 501(c)(3) nonprofit. For information about Spaulding Youth Center, visit www.spauldingyouthcenter.org.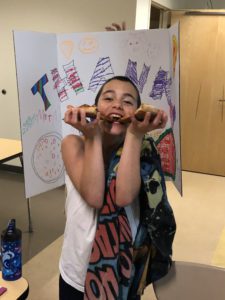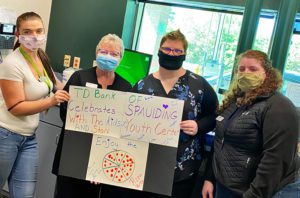 Interested in Learning More About Our Vibrant Campus?
If you are interested in an insider's view of a day in the life of Spaulding Academy & Family Services, we recommend visiting our online photo gallery or our video gallery. These are updated weekly so keep checking back for more great Spaulding moments!