Susan C. Ryan Selected as Associate in the Leadership NH Class of 2019
June 12, 2018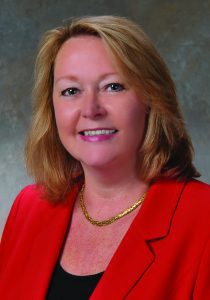 Spaulding Youth Center is excited to announce that CEO & President, Susan C. Ryan, was selected as an Associate in the Leadership New Hampshire Class of 2019. According to Leadership New Hampshire (LNH), 41 Associates have been notified of their selection for the well-respected program.
Ms. Ryan was selected based on her over thirty years of leadership experience building and leading non-profit, healthcare, human services, benefits administration, information technology, and financial services organizations throughout New Hampshire and Massachusetts. Her selection was also based on the significant impact she has made at Spaulding Youth Center in her short tenure, including the improvement of organizational structures, employee engagement, student and family resources, and creative strategies to ensure Spaulding's continued success.
"I am honored to be selected for this prestigious program," said Ms. Ryan. "Leadership NH is the premier organization to provide opportunities to explore the real issues that our state faces. Spaulding Youth Center and the children we serve are directly affected every day by challenges in education, health and healthcare, criminal justice, the opioid crisis and other LNH topics. I look forward to meeting and connecting with other leaders across New Hampshire and working together in a positive way to serve our state and local communities."
The Leadership New Hampshire (LNH) program was established in 1991 to gather a select cohort of talented and accomplished individuals across New Hampshire and provide them with an opportunity to learn about the complex issues facing the state; to connect with one another; and to serve their communities and the state in positions of leadership and responsibility. Associates are selected based on their demonstrated achievement, community leadership, background qualifications, and experience.
To learn more about Leadership New Hampshire, visit http://www.leadershipnh.org/.
About Spaulding Youth Center
Spaulding Youth Center is a leading provider of services for children and youth with neurological, emotional, behavioral, learning and/or developmental challenges, including Autism Spectrum Disorder. Services include academic, behavioral health, residential, foster care, health and wellness and family support. Spaulding Youth Center is a tax-exempt 501(c)(3) nonprofit. For information about Spaulding Youth Center, visit www.spauldingyouthcenter.org.
Interested in Learning More About Our Vibrant Campus?
If you are interested in an insider's view of a day in the life of Spaulding Academy & Family Services, we recommend visiting our online photo gallery or our video gallery. These are updated weekly so keep checking back for more great Spaulding moments!