Susan C. Ryan Joins Panel at NH Business Review's Powered by Women Event
September 25, 2018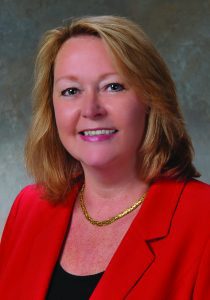 Spaulding Youth Center is excited to announce that CEO & President, Susan C. Ryan, has been selected as a panelist for the 2018 Powered by Women event presented by NH Business Review on Thursday, October 18th at the Manchester Country Club in Bedford, New Hampshire.
Inspired by the wealth of knowledge and personal triumph illustrated by women leaders who have earned NH Business Review's Outstanding Women in Business distinction, Powered by Women serves as a storytelling event that showcases the drive, conviction and persistence of executives in the New Hampshire. Ms. Ryan is a 2018 Outstanding Women in Business Award recipient.
"I am thrilled to be participating in this important event," said Ms. Ryan. "It is an honor to present and connect with an outstanding group of professional women across many facets of business in the Granite State. I am looking forward to sharingmore about my road to leadership at Spaulding Youth Center and hearing the empowering stories from my fellow panelists."
Ms. Ryan's discussion theme is titled "Interrelationships of Trust, Authentic Leadership and Inspiration."  She will present on the panel along with four other successful female leaders from different career backgrounds and perspectives. Each panelist will give a 10-minute talk about their personal and professional growth followed by a 45-minute panel discussion moderated by Tiffany Eddy, a respected New Hampshire communications specialist.
To learn more about the Powered by Women event and purchase tickets, visit https://www.nhbr.com/Powered-by-Women/.
About Spaulding Youth Center
Spaulding Youth Center is a leading provider of services for children and youth with neurological, emotional, behavioral, learning and/or developmental challenges, including Autism Spectrum Disorder and those who have experienced significant trauma, abuse or neglect. Services include academic, behavioral health, residential, foster care, health and wellness and family support. Spaulding Youth Center is a tax-exempt 501(c)(3) nonprofit. For information about Spaulding Youth Center, visit www.spauldingyouthcenter.org.
Interested in Learning More About Our Vibrant Campus?
If you are interested in an insider's view of a day in the life of Spaulding Academy & Family Services, we recommend visiting our online photo gallery or our video gallery. These are updated weekly so keep checking back for more great Spaulding moments!