Susan C. Ryan Graduates as Leadership New Hampshire 2019 Class and Nominated as Graduation Keynote
July 17, 2019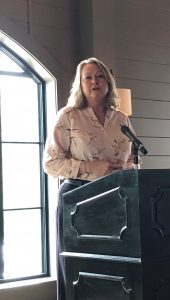 Northfield, NH – Spaulding Youth Center is pleased to announce its CEO & President, Susan C. Ryan, successfully completed the rigorous and prestigious Leadership New Hampshire program. A proud member of the 2019 Class, Ms. Ryan was also nominated by her class of 40 associates to serve as the graduation keynote speaker.
The intensive 10‐month program began last fall with a highly competitive process before beginning the unique educational journey. Leadership New Hampshire has nearly 1,000 alumni who are working to strengthen New Hampshire communities and increase civic engagement. Graduates hold leadership positions in the private, nonprofit, and governmental sectors across the state.
"It was a great honor to be selected for this important program and for the opportunity to be included in this group of impressive and diverse leaders from around New Hampshire," said Susan C. Ryan, CEO & President of Spaulding Youth Center. "I am most appreciative of my board of directors, who not only advocated for my participation in the Leadership New Hampshire program but also generously enabled me to devote the time each month to fully embrace the experience. Their support will be put to good use as I carry all I've learned forward and apply it to the work I do around the state on behalf of Spaulding Youth Center."
Each year's class of LNH associates attends 11 required and one optional seminar days held around the state. These provide an in‐depth exploration of a topic of timely importance to New Hampshire, including demographic changes, the economy, criminal justice, environment, education, culture and arts, community leadership, government and politics, and health care.
Leadership New Hampshire is one of 14 initiatives proposed in the Governor's Commission on New Hampshire in the 21st Century to identify emerging leaders for key roles in statewide issues and developing a network of informed leaders. For more information, please visit the organization's website at www.leadershipnh.org, or contact the office at (603) 226‐2265.
About Spaulding Youth Center
Spaulding Youth Center is a leading provider of services for children and youth with neurological, emotional, behavioral, learning and/or developmental challenges, including Autism Spectrum Disorder and those who have experienced significant trauma, abuse or neglect. Services include academic, behavioral health, residential, foster care, health and wellness and family support. Spaulding Youth Center is a tax‐exempt 501(c)(3) nonprofit. For information about Spaulding Youth Center, visit www.spauldingyouthcenter.org.
Interested in Learning More About Our Vibrant Campus?
If you are interested in an insider's view of a day in the life of Spaulding Academy & Family Services, we recommend visiting our online photo gallery or our video gallery. These are updated weekly so keep checking back for more great Spaulding moments!