Spaulding's Winter Carnival 2021
March 11, 2021
Spaulding Academy & Family Services in Northfield recently held its annual Winter Carnival, an outdoor experiential learning event. Children made their own sleds and decorated them using the 2021 "Heroes" theme, and each classroom had the opportunity to try the sleds out on campus. The event was a great way for the school community to enjoy outdoor educational play, while promoting positive mental health as the pandemic wears on.
The Laconia Daily Sun shared this story on page 2 of its March 12th edition. Click here to view it online or here for a pdf of the print version. To see the Concord Monitor's coverage of this event, click here for an online link or here for a print-ready pdf.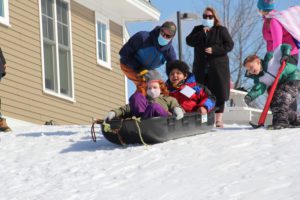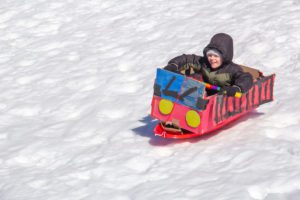 Interested in Learning More About Our Vibrant Campus?
If you are interested in an insider's view of a day in the life of Spaulding Academy & Family Services, we recommend visiting our online photo gallery or our video gallery. These are updated weekly so keep checking back for more great Spaulding moments!