Spaulding Youth Center Welcomes Jake Beattie to Board of Directors
July 14, 2020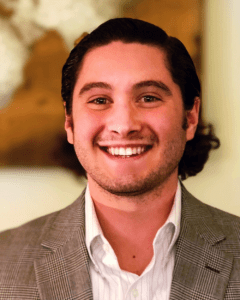 Northfield, NH – Spaulding Youth Center is pleased to announce Jake Beattie has joined its board of directors.
Mr. Beattie is a controller at AutoServ of Tilton, where he is responsible for corporate financing, accounting and office management. Prior to this role, he served as Director of Finance for a manufacturing facility located in Lancaster, New Hampshire.
Former Spaulding board member and AutoServ Chief Executive Officer Dennis J. Gaudet introduced the opportunity to join the organization's board of directors to Mr. Beattie. After meeting members of Spaulding's leadership team, touring the organization's beautiful rural campus, and hearing about recent students' heartwarming success stories, Mr. Beattie knew he had discovered a very special place and decided that he had to be a part of this organization. Spaulding's intensive therapeutic setting, individually tailored services, and the incredible impact on the children and families it serves were all factors in his decision.
Growing up in a community which had many children with special needs, Mr. Beattie witnessed the struggles his neighborhood friends faced and wished there were more resources available to help them. The children of Spaulding remind him of his childhood playmates, and now he is in a position to help provide the support for these kids to reach their full potential. Mr. Beattie is looking forward to contributing as much as possible to the board and is especially excited to participate in its Finance and Innovation committees.
"We are thrilled to welcome Jake Beattie to our board of directors," said Susan C. Ryan, President & CEO of Spaulding Youth Center. "Mr. Beattie's strong sense of community and commitment to helping others was apparent from our very first meeting."
Michael Ventura, Board Chair of Spaulding Youth Center, added, "AutoServ and the Gaudet family are long-time and generous supporters of Spaulding and we welcome the opportunity to continue this relationship. On behalf of everyone on the board of directors, we are excited to see how Mr. Beattie can support our ever-evolving organization."
In his spare time, Mr. Beattie enjoys playing golf at Laconia Country Club, skiing, snowmobiling and performing community service. The Spaulding Youth Center board of directors is comprised of volunteers from the human services, corporate, investment, and philanthropic sectors of our state. To learn more about the Spaulding Youth Center board of directors, visit /about-us/leadership/.
About Spaulding Youth Center
Spaulding Youth Center is a leading provider of services for children and youth with neurological, emotional, behavioral, learning and/or developmental challenges, including Autism Spectrum Disorder and those who have experienced significant trauma, abuse or neglect. Services include academic, residential, clinical, community based, foster care, and family support. Established in 1871 and known as Spaulding Youth Center since 1958, our scenic hilltop campus is located on over 500 acres in Northfield, NH and welcomes boys and girls from ages 4 to 21 from around the state of New Hampshire and beyond. Spaulding Youth Center is a tax-exempt 501(c)(3) nonprofit. For information about Spaulding Youth Center, visit www.spauldingyouthcenter.org.
Interested in Learning More About Our Vibrant Campus?
If you are interested in an insider's view of a day in the life of Spaulding Academy & Family Services, we recommend visiting our online photo gallery or our video gallery. These are updated weekly so keep checking back for more great Spaulding moments!