Spaulding Youth Center Welcomes Donna Raycraft to Board of Directors
May 18, 2018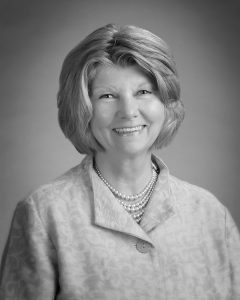 Spaulding Youth Center is pleased to announce Donna Raycraft has joined its board of directors. Mrs. Raycraft brings over thirty years of work and volunteer experience in health and human services to her new role.
Mrs. Raycraft began her career in counseling at Central NH Community Mental Health Center, which became Riverbend Community Mental Health Services. During her internship and subsequent employment, she provided individual, adult and couples therapy, coordinated the Peer Counseling Program and was Director of Parent-Child Centers. Most recently, Mrs. Raycraft served as the Executive Director for the Rape and Domestic Violence Crisis Center (now Crisis Center of Central New Hampshire) until her retirement in 2012.
In addition to her extensive work experience, Mrs. Raycraft is an active member of community organizations, such as the Zonta Club of Concord, Granite United Way, Womankind Counseling Center, Merrimack Valley Daycare, Volunteer Hospice and CRVNA, and Healthy Beginnings Endowment Fund of Concord Hospital. In 1987, the National Council on Family Relations named Mrs. Raycraft a Certified Family Life Educator. She was also certified by Active Parenting Publishers to train and certify facilitators of the Active Parenting Curriculum. At Spaulding, Mrs. Raycraft hopes to be actively involved in the board's Program Committee and is excited to make a difference within the organization.
"I am thrilled to welcome Donna Raycraft to our board of directors," said Susan C. Ryan, CEO & President of Spaulding Youth Center. "Mrs. Raycraft's leadership, professional experience and commitment to serving her community and children will provide an outstanding contribution to our diverse board."
Mrs. Raycraft has a Bachelor of Human Services from New Hampshire College and a Master of Science in Counseling Psychology from Antioch New England Graduate School. She currently resides in Concord, New Hampshire.
The Spaulding Youth Center Board of Directors is comprised of volunteers from the human services, corporate, investment, and philanthropic sectors of our state. To learn more about the Spaulding Youth Center board of directors, visit /about-us/leadership/.
About Spaulding Youth Center
Spaulding Youth Center is a leading provider of services for children and youth with neurological, emotional, behavioral, learning and/or developmental challenges, including Autism Spectrum Disorder. Services include academic, behavioral health, residential, foster care, health and wellness and family support. Spaulding Youth Center is a tax-exempt 501(c)(3) nonprofit. For information about Spaulding Youth Center, visit www.spauldingyouthcenter.org.
Interested in Learning More About Our Vibrant Campus?
If you are interested in an insider's view of a day in the life of Spaulding Academy & Family Services, we recommend visiting our online photo gallery or our video gallery. These are updated weekly so keep checking back for more great Spaulding moments!