Spaulding Youth Center Welcomes Ana McKenna to Board of Directors
June 30, 2020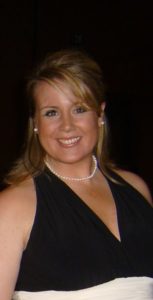 Northfield, NH – Spaulding Youth Center is pleased to announce U.S. Army Major Ana McKenna has joined its board of directors.
Major McKenna has been an active U.S. Army officer since 1999. She is currently responsible for the overall program management of New Hampshire National Guard's Care Coordination Program. In this role, she manages the branch's $1.3M federal contract providing comprehensive care coordination, personal financial counseling and referral services to actively serving service members and families of all branches and components, ensuring readiness, retention and reintegration for those still serving. Prior to this role, Major McKenna worked as the National Director for Provider Relations at Military OneSource, ValueOptions.
Spaulding was always in the back of Major McKenna's mind. Her mother was a social worker for over 30 years and introduced her to the organization. Major McKenna learned of the board membership opportunity after meeting Susan C. Ryan, President & CEO of Spaulding Youth Center, while classmates in the Leadership New Hampshire program. Major McKenna was interested in joining a board that directly served New Hampshire children, and Spaulding seemed like the perfect fit. After meeting with Spaulding staff members, she witnessed their dedication and commitment to the organization and knew she had discovered her next volunteer endeavor. Major McKenna is looking forward to learning more about Spaulding's programs and services and becoming a true voice for the organization in her networks.
"We are thrilled to welcome Major Ana McKenna to our board of directors," said Susan C. Ryan, President & CEO at Spaulding Youth Center. "Her leadership skills garnered from her experience as a U.S. Army officer is incredibly valuable to our board."
Michael Ventura, Board Chair of Spaulding Youth Center, added, "Major McKenna does vital work in providing advice and support to service members and their families before, during and after deployment. We look forward to seeing how her social work and devotion to helping those in need will help shape the future of our organization." The Spaulding Youth Center board of directors is comprised of volunteers from the human services, corporate, investment, and philanthropic sectors of our state. To learn more about the Spaulding Youth Center board of directors, visit /about-us/leadership/.
About Spaulding Youth Center
Spaulding Youth Center is a leading provider of services for children and youth with neurological, emotional, behavioral, learning and/or developmental challenges, including Autism Spectrum Disorder and those who have experienced significant trauma, abuse or neglect. Services include academic, residential, clinical, community based, foster care, and family support. Established in 1871 and known as Spaulding Youth Center since 1958, our scenic hilltop campus is located on over 500 acres in Northfield, NH and welcomes boys and girls from ages 4 to 21 from around the state of New Hampshire and beyond. Spaulding Youth Center is a tax-exempt 501(c)(3) nonprofit. For information about Spaulding Youth Center, visit www.spauldingyouthcenter.org.
Interested in Learning More About Our Vibrant Campus?
If you are interested in an insider's view of a day in the life of Spaulding Academy & Family Services, we recommend visiting our online photo gallery or our video gallery. These are updated weekly so keep checking back for more great Spaulding moments!