Spaulding Youth Center Welcomes 15 Interns from New Hampshire-Based Higher Education Institutions
April 05, 2018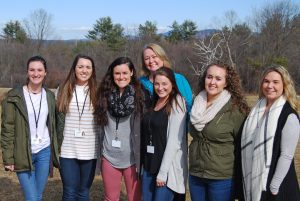 Spaulding Youth Center is pleased to welcome 15 interns from three New Hampshire-based higher education institutions. Joining Spaulding from Plymouth State University, Colby-Sawyer College and Granite State College, the interns include undergraduate and postgraduate students looking to gain real-life experience working with children and youth with neurological, emotional, behavioral, learning and/or developmental challenges.
Spaulding Youth Center developed its internship program to support the next generation of industry leaders. The undergraduate and postgraduate students that have been accepted into the program will receive professional training from Spaulding staff and be given the hands-on experience of working in a learning environment for students with disabilities.
"Spaulding is proud to support the next generation of specialists to work with the children and families we have served for over 147 years and nearly 60 years at our Northfield campus," said Susan C. Ryan, CEO & President of Spaulding Youth Center. "Our internship program provides undergraduate and postgraduate students the opportunity to learn specific skills, practical applications, and compassionate care from our experienced staff which will in turn give them a head start in their careers."
The interns will assist in many facets of Spaulding's programs and services throughout their time on campus this spring. Based on the various departments which each intern was accepted to support, the interns will gain hands-on experience in a wide variety of disciplines, including psychology, social work, special education and Spaulding's innovative Experiential Challenges Outdoors (EChO) program. The interns can also attend training for professional growth, including Trust-Based Relational Intervention® (TBRI®) training, and are encouraged to join staff team meetings and other focused groups on campus to gain an insider's view of day-to-day operations.
About Spaulding Youth Center
Spaulding Youth Center is a leading provider of services for children and youth with neurological, emotional, behavioral, learning and/or developmental challenges, including Autism Spectrum Disorder. Services include academic, behavioral health, residential, foster care, health and wellness and family support. Spaulding Youth Center is a tax-exempt 501(c)(3) nonprofit. For information about Spaulding Youth Center, visit www.spauldingyouthcenter.org.
Interested in Learning More About Our Vibrant Campus?
If you are interested in an insider's view of a day in the life of Spaulding Academy & Family Services, we recommend visiting our online photo gallery or our video gallery. These are updated weekly so keep checking back for more great Spaulding moments!