Spaulding Youth Center to Host Foster and Adoptive Care Essentials (FACES)
May 06, 2019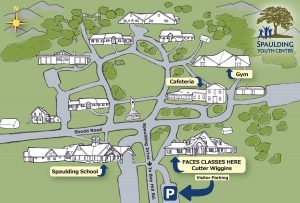 Spaulding Youth Center will be hosting the Foster and Adoption Care Essentials (FACES) series on their Northfield, NH campus beginning May 9, 2019. Offered by the Granite State College Education & Training Partnership, the series is free and open to the public. Anyone who may be interested in becoming a foster or adoptive parent can pre-register online for one module or the whole series by visiting http://etp.granite.edu/schedule/faces.
FACES Spring Series Schedule
Please note, each module can be attended individually.
Thursday, May 9 Orientation 5:30pm-8:30pm
Thursday, May 16 Regulations 5:30pm-8:30pm
Thursday, May 23 The Developing Child 5:30pm-8:30pm
Thursday, May 30 The Effects of Childhood Trauma 5:30pm-8:30pm
Thursday, June 6 Experiencing Grief & Loss 5:30pm-8:30pm
Thursday, June 13 Promoting Positive Behavior 5:30pm-8:30pm
Thursday, June 20 Lifelong Connections 5:30pm-8:30pm
For questions or more information, please contact Dawn Fontaine at DFontaine@SpauldingYouthCenter.org or 603-286-8901 x285 .
About Spaulding Youth Center
Spaulding Youth Center is a leading provider of services for children and youth with neurological, emotional, behavioral, learning and/or developmental challenges, including Autism Spectrum Disorder and those who have experienced significant trauma, abuse or neglect. Services include academic, behavioral health, residential, foster care, health and wellness and family support. Spaulding Youth Center is a tax-exempt 501(c)(3) nonprofit. For information about Spaulding Youth Center, visit www.spauldingyouthcenter.org.
Interested in Learning More About Our Vibrant Campus?
If you are interested in an insider's view of a day in the life of Spaulding Academy & Family Services, we recommend visiting our online photo gallery or our video gallery. These are updated weekly so keep checking back for more great Spaulding moments!