Spaulding Youth Center Students Receive Accolades in NHPBS Kids Writers Contest
July 18, 2019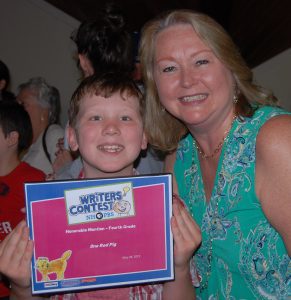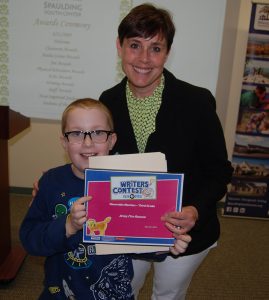 Northfield, NH – Spaulding Youth Center is pleased to announce two students received honorable mentions for their original creative writing stories in the 2019 NHPBS Kids Writers Contest. Both students received winner packages from NHPBS which were formally presented while acknowledging their achievement during the annual academic award ceremony on the Northfield, NH campus.
The NHPBS Kids Writers Contest is an annual contest open to children in grades K‐5. Students are asked to write and illustrate an original story and submit it for consideration. NHPBS encourages schools, classes, and after‐school programs and clubs to participate as well as homeschooled children. Spaulding staff members worked with students' families to submit original stories written by two eager students. A thirdgrade student wrote and illustrated an action story titled "Army Fire Rescue." A fourth‐grade student wrote and illustrated a fun fairy tale titled "One Red Pig." Both students were awarded with honorable mentions for their submissions.
"Spaulding Youth Center is so proud of the students for their hard work and creativity in writing and illustrating these wonderful original stories," said Susan C. Ryan, President & CEO of Spaulding Youth Center. "Our staff members are always looking for new ways for students to participate in exciting and educational opportunities. The NHPBS Writers Contest provided a wonderful chance for our students to use creative writing to express themselves, explore their imaginations, and strengthen their self‐confidence. Both students were overjoyed to receive honorable mentions for their stories, and it is truly inspiring to see them experience personal success."
To learn more about the NHPBS Writers Contest, visit https://nhpbs.org/kidswrite/#aboutkidswrite.
About Spaulding Youth Center
Spaulding Youth Center is a leading provider of services for children and youth with neurological, emotional, behavioral, learning and/or developmental challenges, including Autism Spectrum Disorder and those who have experienced significant trauma, abuse or neglect. Services include academic, behavioral health, residential, foster care, health and wellness and family support. Spaulding Youth Center is a tax‐exempt 501(c)(3) nonprofit. For information about Spaulding Youth Center, visit www.spauldingyouthcenter.org.
Interested in Learning More About Our Vibrant Campus?
If you are interested in an insider's view of a day in the life of Spaulding Academy & Family Services, we recommend visiting our online photo gallery or our video gallery. These are updated weekly so keep checking back for more great Spaulding moments!