Spaulding Youth Center Staff Participate in Ink4Autism with Concord-Based Tattoo Shop
May 29, 2018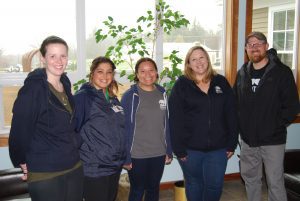 Spaulding Youth Center is pleased to announce that eight staff members showed their personal support of AutismAwareness Month by participating in Ink4Autism at Capital City Tattoo & Supply in Concord, New Hampshire.
Ink4Autism is a fundraising campaign that encourages tattoo shops and artists to partner with local non-profit autism charities, programs or organizations to help support those on the autism spectrum during Autism Awareness Month. Each location can choose the length and details of their fundraising participation.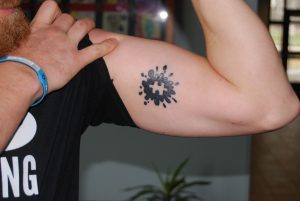 Capital City Tattoo & Supply in Concord participated in the Ink4Autism campaign for the first time this year and is donating all proceeds from all tattoos purchased during their dedicated Ink4Autism fundraising day toward a local autism program.
"I am so honored to lead an organization full of employees who are incredibly dedicated to their work," said Susan C. Ryan, CEO & President of Spaulding Youth Center. "Spaulding Youth Center provides many services for children and youth diagnosed with Autism Spectrum Disorder, and the men and women who work with these kids every day are truly inspiring. By participating in Ink4Autism, these amazing staff members demonstrated their complete commitment to the children we serve and the challenges they face. We are proud of our staff who have chosen to support Autism Awareness in this creative way."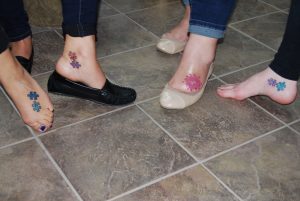 The Spaulding staff members who participated in the 2018 Ink4Autism campaign at Capital City Tattoo and Supply are: Alexsus Bougie, Danielle Morris, Nicole Hilliker, Natalie Winchester, Alina Harris, Tabitha Malone, Jacob Kleckner and Mychala Demeritt. Each person chose a different representation of what autism awareness means to them by getting a tattoo of a puzzle piece – a common symbol used in conjunction with autism. According to Autism-Spectum.org, the puzzle piece symbol reflects the complexity of autism and the diversity of the people and families living with the condition.
About Spaulding Youth Center
Spaulding Youth Center is a leading provider of services for children and youth with neurological, emotional, behavioral, learning and/or developmental challenges, including Autism Spectrum Disorder. Services include academic, behavioral health, residential, foster care, health and wellness and family support. Spaulding Youth Center is a tax-exempt 501(c)(3) nonprofit. For information about Spaulding Youth Center, visit www.spauldingyouthcenter.org.
Interested in Learning More About Our Vibrant Campus?
If you are interested in an insider's view of a day in the life of Spaulding Academy & Family Services, we recommend visiting our online photo gallery or our video gallery. These are updated weekly so keep checking back for more great Spaulding moments!