Spaulding Youth Center Recognizes Community Award Recipients
January 30, 2019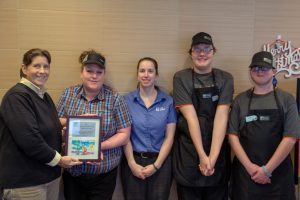 Spaulding Youth Center is pleased to announce the recipients of this year's community awards: Taco Bell of Tilton, NH and Just Flow Events & Marketing. Each year, Spaulding publicly recognizes community partners for their extensive, ongoing support with the official presentation of these historical awards.
The 13th Annual You've Got a Friend Award was presented to Taco Bell of Tilton, New Hampshire. This strategic partnership provided support for Spaulding Youth Center students in two significant ways. Collaborating with our dedicated Residential Living Specialist, Taco Bell successfully co-developed vocational internships and employment for Spaulding students. Through these opportunities, participating students develop valuable skills which can transferred to future employment as well as build self-confidence and self-worth. In addition, Taco Bell generously donated a complete and delicious dinner for students and staff to enjoy on campus several times throughout 2018. The restaurant's generosity and friendship improved our campus and our students in 2018 and their actions exemplify how corporate social responsibility can positively impact the community.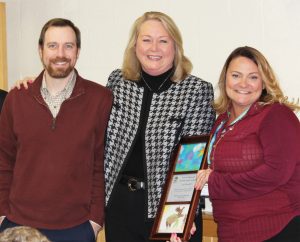 The 11th Annual Arthur H. Nighswander Community Partner Award recipient was presented to Just Flow Events & Marketing. Just Flow provides end-to-end marketing, communications and event planning consulting services to Spaulding Youth Center. For nearly four years, Just Flow has provided strategic marketing, social media management, website design and development, graphic design, copywriting, event planning and other related corporate communication services. The Arthur H. Nighswander Community Partner Award serves as a celebration of an individual or organization that has provided significant assistance to Spaulding Youth Center and is named after a former Spaulding board member to honor his longtime support.
"As a nonprofit, we recognize how the support we receive from corporate partners in the community help us to achieve our mission of supporting exceptional children and families toward a successful future," said Susan C. Ryan, President & CEO of Spaulding Youth Center. "With the unwavering support of companies like Taco Bell of Tilton and Just Flow Events & Marketing, we can continue providing extraordinary opportunities for our children and educate others regarding the evolving needs of the children we serve."
The You've Got a Friend Award has previously been presented to Jack and Marci Williams Endowment for Wednesday's Child and Tilton School, amongst other community partners. The Arthur H. Nighswander Community Partner Award has previously been presented to supportive organizations such as the Northeast Delta Dental Foundation, Belknap Mill Quilters Guild and Great Northern Cleaning.
About Spaulding Youth Center
Spaulding Youth Center is a leading provider of services for children and youth with neurological, emotional, behavioral, learning and/or developmental challenges, including Autism Spectrum Disorder and those who have experienced significant trauma, abuse or neglect. Services include academic, behavioral health, residential, foster care, health and wellness and family support. Spaulding Youth Center is a tax-exempt 501(c)(3) nonprofit. For information about Spaulding Youth Center, visit www.spauldingyouthcenter.org.
Interested in Learning More About Our Vibrant Campus?
If you are interested in an insider's view of a day in the life of Spaulding Academy & Family Services, we recommend visiting our online photo gallery or our video gallery. These are updated weekly so keep checking back for more great Spaulding moments!