Spaulding Youth Center Receives Luggage Donation from Portsmouth Women's City Club
July 30, 2020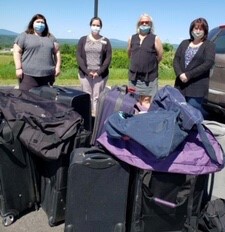 Northfield, NH – Spaulding Youth Center is happy to announce it received twenty-five suitcases and travel bags, generously donated by the Portsmouth Women's City Club. The luggage pieces will be used for students moving into Spaulding's residential cottages.
Club members contacted Spaulding's Director of Residential Services, Amanda Champagne, to offer their donation in support of the unique circumstances of some of the children referred to Spaulding. Ms. Champagne explained that many of the organization's residential students arrive to campus carrying their most prized possessions in garbage bags. Members of the club focused efforts to collect gently used suitcases, backpacks, and totes to give to students so they could travel to and from campus with confidence.
Since 1920, the Portsmouth Women's City Club has provided fellowship for local women. The organization is an inter-generational services and social club whose members work together to enrich the community. The Portsmouth Women's City Club is a member of the General Federation of Women's Clubs, an international organization founded in 1868 with a long history of supporting women's issues. The General Federation of Women's Clubs is dedicated to community improvement by enhancing the lives of others through volunteer service. As such, the Portsmouth Women's City Club continues the tradition of community service throughout the New Hampshire seacoast.
"We are so appreciative of this generous donation," said Amanda Champagne, Director of Residential Services at Spaulding Youth Center. "Our residential program offers a cottage-based, nurturing community which serves as a home away from home and fosters the fundamental philosophies of a family unit. Some children's transitions can be difficult for a variety of reasons outside of their control, so we are grateful that these children now have a suitcase of their own so that they can carry their precious belongings with dignity."
Visit https://www.portsmouthwomenscityclub.org/ to learn more about Portsmouth Women's City Club.
About Spaulding Youth Center
Spaulding Youth Center is a leading provider of services for children and youth with neurological, emotional, behavioral, learning and/or developmental challenges, including Autism Spectrum Disorder and those who have experienced significant trauma, abuse or neglect. Services include academic, residential, clinical, community based, foster care, and family support. Established in 1871 and known as Spaulding Youth Center since 1958, our scenic hilltop campus is located on over 500 acres in Northfield, NH and welcomes boys and girls from ages 4 to 21 from around the state of New Hampshire and beyond. Spaulding Youth Center is a tax-exempt 501(c)(3) nonprofit. For information about Spaulding Youth Center, visit www.spauldingyouthcenter.org.
Interested in Learning More About Our Vibrant Campus?
If you are interested in an insider's view of a day in the life of Spaulding Academy & Family Services, we recommend visiting our online photo gallery or our video gallery. These are updated weekly so keep checking back for more great Spaulding moments!