Spaulding Youth Center Receives Grant from the New Hampshire Charitable Foundation in Support of Equine Therapy and Horsemanship Programs
August 05, 2020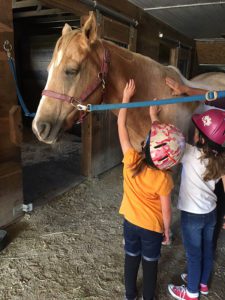 Northfield, NH – Spaulding Youth Center is excited to announce it has received a $15,000.00 grant from the New Hampshire Charitable Foundation. This grant was funded by gifts from the Charitable Foundation's Daisy Hale Fund. The grant will directly support Spaulding's equine therapy programs.
Horseback riding and horsemanship serve as a unique and effective form of therapy for Spaulding children and youth facing behavioral, emotional and physical challenges. Children create an emotional bond with the horses and participating in this activity encourages them to build social skills and confidence in a positive atmosphere. Spalding's board-certified behavioral analysts (BCBAs) use Applied Behavioral Analysis (ABA) to develop and monitor plans for each student to build structure, set goals and promote skill acquisition based on their individual needs and abilities. The grant funding will cover the costs associated with transportation, instruction and materials. Historically, Spaulding students have received programming from both Back in the Saddle Equine Therapy Center (BITS ETC) and Lakes Region Riding Academy, and Spaulding intends to continue both collaborations.
Located in Hopkinton, New Hampshire, BITS ETC is a 501(c)3 non-profit that offers therapeutic riding and equine-assisted activities for people living with disabilities in central New Hampshire. BITS ETC was the first facility in the Northeast to be licensed by SpiritHorse International to offer its award-winning curriculum of special use for riders on the autism spectrum.
Lakes Region Riding Academy, located in Gilford, New Hampshire, is home to Spaulding's Healing with Horses program. The program provides residential students the opportunity to experience horseback riding in an intimate, calming setting. Students receive personal lessons from founder Julie Lawrence once a week for a four-week session and learn about the care and maintenance of horses.
"Spaulding is honored to receive this grant from the New Hampshire Charitable Foundation," said Susan C. Ryan, President & CEO of Spaulding Youth Center. "The funds directly support our participation in equine therapy programs in partnership with BITS ETC and Lakes Region Riding Academy. These programs give our students the chance to participate in a fun activity while creating positive therapeutic outcomes. We thank the New Hampshire Charitable Foundation for continuing to support our mission."
Visit https://www.nhcf.org/ to learn more about the New Hampshire Charitable Foundation.
About Spaulding Youth Center
Spaulding Youth Center is a leading provider of services for children and youth with neurological, emotional, behavioral, learning and/or developmental challenges, including Autism Spectrum Disorder and those who have experienced significant trauma, abuse or neglect. Services include academic, residential, clinical, community based, foster care, and family support. Established in 1871 and known as Spaulding Youth Center since 1958, our scenic hilltop campus is located on over 500 acres in Northfield, NH and welcomes boys and girls from ages 4 to 21 from around the state of New Hampshire and beyond. Spaulding Youth Center is a tax-exempt 501(c)(3) nonprofit. For information about Spaulding Youth Center, visit www.spauldingyouthcenter.org.
About the New Hampshire Charitable Foundation
The New Hampshire Charitable Foundation is New Hampshire's statewide community foundation, founded in 1962 by and for the people of New Hampshire. The Foundation manages a growing collection of nearly 2,000 funds created by generous individuals, families and businesses, and awards nearly $40 million in grants and more than $6 million in scholarships every year. The Foundation works with generous and visionary citizens to maximize the power of their giving, supports great work happening in our communities and leads and collaborates on high-impact initiatives. For more information, please visit www.nhcf.org or call 603-225-6641.
Interested in Learning More About Our Vibrant Campus?
If you are interested in an insider's view of a day in the life of Spaulding Academy & Family Services, we recommend visiting our online photo gallery or our video gallery. These are updated weekly so keep checking back for more great Spaulding moments!