Spaulding Youth Center Receives Generous Donations from Greater Lakes Region Children's Auction
April 24, 2018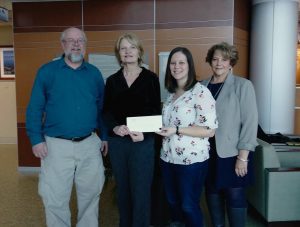 Spaulding Youth Center is honored to announce the recent presentation of two donations totaling $11,000.00 from the Greater Lakes Region Children's Auction.
The first donation of $5,000.00 will be allocated toward necessities vital to Spaulding Youth Center's residential program, including clothing, toiletries and holiday gifts for the students residing at the organization's Northfield, New Hampshire campus. The second donation of $6,000.00 will be used toward enrichment programs occurring after the school day concludes. Plans are already underway for residential students to participate in karate lessons, art classes and field trips.
"We are honored to accept this donation from the Greater Lakes Region Children's Auction," said Susan C. Ryan, CEO & President of Spaulding Youth Center. "Spaulding is deeply appreciative to be included amongst many well-respected organizations working diligently to serve children and youth. This generous donation will help us to continue providing the children we serve with clothing and toys, when many come to us without either. It also provides the opportunity to build important social skills and participate in fun, memorable events every child should experience during childhood."
Local companies support the Greater Lakes Region Children's Auction by providing cash donations, sponsorships, and staff, allowing employees to serve the community at the event during what would normally be work hours. Spaulding Youth Center is proud to be a chosen recipient of the generous donations made by many contributing local New Hampshire businesses.
About Spaulding Youth Center
Spaulding Youth Center is a leading provider of services for children and youth with neurological, emotional, behavioral, learning and/or developmental challenges, including Autism Spectrum Disorder. Services include academic, behavioral health, residential, foster care, health and wellness and family support. Spaulding Youth Center is a tax-exempt 501 (c)(3) nonprofit. For information about Spaulding Youth Center, visit www.spauldingyouthcenter.org.
About Greater Lakes Region Charitable Fund and Children's Auction
The Greater Lakes Region Charitable Fund for Children is a 501(c)(3) non-profit organization that helps community organizations in the Central New Hampshire region. All donations are tax-deductible. The Greater Lakes Region Children's Auction is an annual event held every December in central New Hampshire. Over the 33 years that the community has come together, over $4.5 million dollars has been raised for local charities, all through volunteer efforts, community donations and corporate sponsorships. To learn more about the Greater Lakes Region Children's Auction, visit www.childrensauction.com.
Interested in Learning More About Our Vibrant Campus?
If you are interested in an insider's view of a day in the life of Spaulding Academy & Family Services, we recommend visiting our online photo gallery or our video gallery. These are updated weekly so keep checking back for more great Spaulding moments!