Spaulding Youth Center Receives Donation from Pair-A-Dice Tattoo Company
June 27, 2018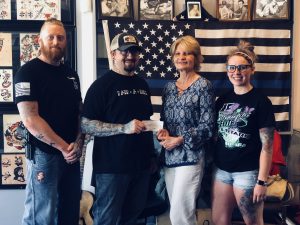 Spaulding Youth Center is happy to announce it was recently selected as the recipient of a $150.00 donation from Pair-A-Dice Tattoo Company, LLC., located in Tilton, New Hampshire. The check presentation came from owner Mike Weatherbee in support of Ink4Autism and Autism Awareness Month.
Ink4Autism is a fundraising campaign that encourages tattoo shops and artists to partner with local non-profit autism charities, programs or organizations to help support those on the autism spectrum during Autism Awareness Month, which falls during April each year. Each location can choose the length and details of their fundraising participation.
Pair-A-Dice Tattoo Company participated in the Ink4Autism campaign for the second time this year. For the entire month of April, patrons were invited to show their support of Ink4Autism by getting a tattoo related to autism awareness at Pair-A-Dice Tattoo Company. The shop then pledged to donate double the amount made from autism awareness tattoos to Spaulding Youth Center.
"I am honored to support Spaulding Youth Center through the Ink4Autism campaign," said Mike Weatherbee, owner of Pair-A-Dice Tattoo Company. "Spaulding is a great local organization that has been around for a long time and has helped countless children diagnosed with autism spectrum disorder. I am already looking forward to participating in Ink4Autism next year!"
To learn more about Ink4Autism, visit http://www.ink4autism.com/.
To learn more about Pair-A-Dice Tattoo Company, visit http://pairadicet2.webs.com/.
About Spaulding Youth Center
Spaulding Youth Center is a leading provider of services for children and youth with neurological, emotional, behavioral, learning and/or developmental challenges, including Autism Spectrum Disorder. Services include academic, behavioral health, residential, foster care, health and wellness and family support. Our mission is supporting exceptional children and families toward a successful future. Spaulding Youth Center is a tax-exempt 501(c)(3) nonprofit. For information about Spaulding Youth Center, visit www.spauldingyouthcenter.org.
Interested in Learning More About Our Vibrant Campus?
If you are interested in an insider's view of a day in the life of Spaulding Academy & Family Services, we recommend visiting our online photo gallery or our video gallery. These are updated weekly so keep checking back for more great Spaulding moments!