Spaulding Youth Center Receives $50,000.00 Pledge from AutoServ of Tilton
March 29, 2018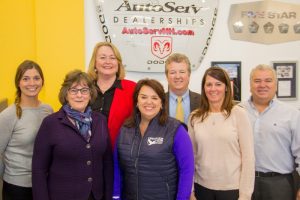 Spaulding Youth Center is honored to announce it was presented with a $50,000 pledge from AutoServ of Tilton. The funds will go directly to benefit Spaulding's programs and services.
This generous pledge became a reality thanks to the long-term support of AutoServ Chief Executive Officer Dennis J. Gaudet, who served on the Board of Trustees for Spaulding Youth Center from 1997-2002. Though no longer serving on the board, Mr. Gaudet is a passionate supporter of the organization. He credits former Spaulding Youth Center Trustee Richard "Dick" Smart for introducing him to the organization and encouraging him to get involved. In 1958, Mr. Smart served as a chairman of a unifying committee that merged the Golden Rule Farm in Northfield with the Daniel Webster Home for Children in Franklin to establish Spaulding Youth Center in Northfield, where he served as a trustee.
"Dick Smart introduced me to Spaulding Youth Center thirty years ago. I instantly fell in love with the organization and became a trustee and supporter," said Dennis J. Gaudet, Chief Executive Officer of AutoServ. "AutoServ makes this latest donation in Dick Smart's memory in hope of inspiring others to learn about the special place Spaulding Youth Center is and all of the wonderful opportunities it provides to the children enrolled in its programs."
The funds donated will be used to support Spaulding Youth Center's many programs and services, including Academic, Clinical, Community-Based and Residential programs.
"I am honored to acknowledge this donation from AutoServ," said Susan C. Ryan, CEO & President of Spaulding Youth Center. "Spaulding is deeply appreciative of the unwavering support Mr. Gaudet and his family has provided throughout the years. Generous corporate sponsors like AutoServ provide the necessary resources to continue providing exceptional learning and living environments for the children we serve. AutoServ exemplifies how corporate social responsibility can positively impact their community and state."
AutoServ is located in Tilton, New Hampshire. With over 100,000 vehicles sold and hundreds more in our new and used car inventories, AutoServ is one of the largest and most successful car dealerships in the state of New Hampshire.
ABOUT SPAULDING YOUTH CENTER
Spaulding Youth Center is a leading provider of services for children and youth with neurological, emotional, behavioral, learning and/or developmental challenges, including Autism Spectrum Disorder. Services include academic, behavioral health, residential, foster care, health and wellness and family support. Spaulding Youth Center is a tax-exempt 501(c)(3) nonprofit. For information or to provide a donation, visit Spaulding Youth Center online at www.spauldingyouthcenter.org.
ABOUT AUTOSERV
AutoServ, a family-owned and operated multi-line franchise automotive dealership in NH's Lakes Region, has proudly been serving customers for nearly 30 years. With its deep roots in the community, exceptional customer satisfaction and loyalty ratings, and owners always on-site, running day-to-day operations; AutoServ's reach continues to grow. AutoServ offers 8 new vehicle lines: Ford, Nissan, VW, Chrysler, Dodge, Jeep, Ram, and Kia; as well as a Used Vehicle and Commercial Truck Center, Quicklane and Collision Service Centers. AutoServ sells and services every make and model and offers AutoServ for Life customer guarantees. AutoServ was honored to be named 'Time Magazine Dealer of the Year for New Hampshire,' a national honor, as well as voted 'Best of the Lakes Region for Used Vehicle Sales.' For more info please contact Donna Gaudet Hosmer at HosmerD@AutoServ.com or call (603) 286-3141.
Interested in Learning More About Our Vibrant Campus?
If you are interested in an insider's view of a day in the life of Spaulding Academy & Family Services, we recommend visiting our online photo gallery or our video gallery. These are updated weekly so keep checking back for more great Spaulding moments!