Spaulding Youth Center Prepares for Annual Thanksgiving Feast with help from MetroCast Community Foundation
November 22, 2013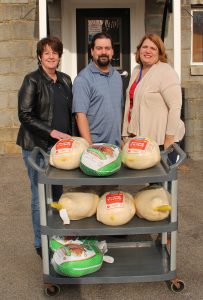 Spaulding Youth Center in Northfield, NH prepares for the annual Thanksgiving Feast with help from MetroCast Community Foundation which provided turkeys for the fifth year in a row. Pictured from left to right are Moira Campbell, Regional Manager NH/ME, MetroCast, Shane Milianes, Food Services Director, Spaulding Youth Center and Shannon Barnes, Regional Marketing, MetroCast. Moira Campbell has served on the Spaulding Youth Center Foundation Board of Directors since 2010.
Spaulding Youth Center's mission is to leverage professional expertise to help young people with autism or other developmental and/or behavioral challenges learn the academic and life skills needed to be successful in their homes, schools and communities.
For more information contact Gail Mayhew, Director of Development at 603-286-7500 ext. 532; GMayhew@SpauldingYouthCenter.org or visit www.spauldingyouthcenter.org.
Interested in Learning More About Our Vibrant Campus?
If you are interested in an insider's view of a day in the life of Spaulding Academy & Family Services, we recommend visiting our online photo gallery or our video gallery. These are updated weekly so keep checking back for more great Spaulding moments!