Spaulding Youth Center Partners with Sullivan Construction for Lambert Residence Hall Renovation
May 08, 2019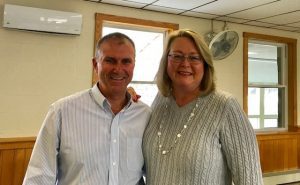 Spaulding Youth Center is pleased to announce the successful completion of significant renovations to our Lambert Hall residential cottage. The organization was proud to award Sullivan Construction of Bedford, New Hampshire the building contract for this project as well Holmes Flooring of Chichester, New Hampshire for the flooring components.
Located on Spaulding's Northfield, New Hampshire campus, Lambert Hall is one of five residential cottages and currently provides a home for eight students. The building is over 50 years old and was in need of updates both inside and outside. Sullivan Construction offered Spaulding Youth Center a significant charitable discount, skillfully worked around unique campus schedules, and completed the renovation within just two months. The updates included significant interior layout modifications, ceiling updates, creation of brand-new living room areas, repainting of all common spaces and exterior of building, as well as general construction that enabled a more open concept. A new custom cubby area for students was built by the talented Spaulding Facilities team and new flooring in all areas was replaced by Holmes Flooring.
"We are thrilled for our Lambert residential students to enjoy these exciting renovations," said Roger Bolduc, Support Services Director of Spaulding Youth Center. "The goal of this project was to give this particular residence a more home-like, open and comfortable feel. The building has undergone years of wear and tear and was originally designed during an era when residences weren't as homelike. These renovations enable our children to live in an environment that is collaborative, happy and safe. Now more than ever, the Lambert cottage feels like a home away from home."
New furnishings were also part of the renovation project and were funded in part by a recent $10,000.00 grant presented by People's United Community Foundation, the philanthropic arm of People's United Bank, N.A.
As part of the overall renovation activity, Sullivan Construction also renovated the School building to enhance student security and create new workspace for staff.
Learn more about Spaulding Youth Center's residential program by visiting www.spauldingyouthcenter.org/residential/.
About Spaulding Youth Center
Spaulding Youth Center is a leading provider of services for children and youth with neurological, emotional, behavioral, learning and/or developmental challenges, including Autism Spectrum Disorder and those who have experienced significant trauma, abuse or neglect. Services include academic, behavioral health, residential, foster care, health and wellness and family support. Spaulding Youth Center is a tax-exempt 501(c)(3) nonprofit. For information about Spaulding Youth Center, visit www.spauldingyouthcenter.org.
Interested in Learning More About Our Vibrant Campus?
If you are interested in an insider's view of a day in the life of Spaulding Academy & Family Services, we recommend visiting our online photo gallery or our video gallery. These are updated weekly so keep checking back for more great Spaulding moments!