Spaulding Youth Center Participates in Tilton‐Northfield Old Home Day Celebration
July 25, 2019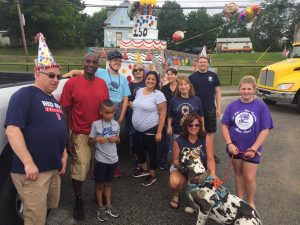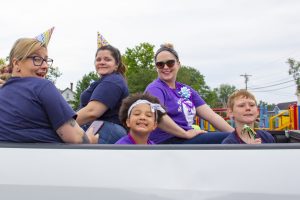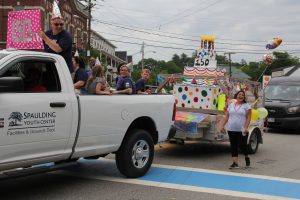 Northfield, NH – Spaulding Youth Center is pleased to announce it recently participated in the Tilton‐Northfield Old Home Day celebration for the second consecutive year.
Over 20 Spaulding students and staff happily marched in the event's famous parade, which had a "Birthdays Throughout our Communities" theme and included local marching bands, floats, and performers. Children were encouraged to decorate their bicycles and ride along the parade route. Spaulding students enjoyed marching along the parade route while holding their school banner, riding on a float created by staff members, and interacting with attendees by handing out candy and participating in festive and fun conversation. Students were especially excited to see familiar faces in the crowd, as many local staff members attended to watch the parade and show their support.
"Our projects and events committee began planning for Tilton‐Northfield Old Home Day back in March," said Cheryl Avery, Director of Community Relations at Spaulding Youth Center. "Staff members were excited to create the float and develop themed components so that the students could participate in this annual tradition. Events like the parade help our students strengthen their social skills, build self‐confidence and feel like an important part of their community. We are already looking forward to next year's Old Home Day festivities!"
The Old Home Day parade route began on Elm Street, made its way down Main Street in Tilton and proceeded down Park Street to end at Pines Park. The Old Home Day celebration also included a pancake breakfast held at Pines Community Center, a 5K road race, horse pulling, wildlife encounters, entertainment by Mo the Clown and Rockin' Daddios, a pie eating contest and a Chicken BBQ held at Pines Park. The event concluded with a fireworks display held at Surrette Park in Northfield.
About Spaulding Youth Center
Spaulding Youth Center is a leading provider of services for children and youth with neurological, emotional, behavioral, learning and/or developmental challenges, including Autism Spectrum Disorder and those who have experienced significant trauma, abuse or neglect. Services include academic, behavioral health, residential, foster care, health and wellness and family support. Spaulding Youth Center is a tax‐exempt 501(c)(3) nonprofit. For information about Spaulding Youth Center, visit www.spauldingyouthcenter.org.
Interested in Learning More About Our Vibrant Campus?
If you are interested in an insider's view of a day in the life of Spaulding Academy & Family Services, we recommend visiting our online photo gallery or our video gallery. These are updated weekly so keep checking back for more great Spaulding moments!