Spaulding Youth Center Kicks Off 1:1 Technology Initiative with Learning Without Limits Breakfast
May 18, 2016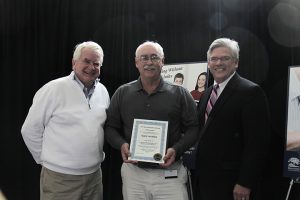 Yesterday, Spaulding Youth Center hosted local business owners, community leaders and dedicated supporters for Learning Without Limits, a free breakfast event at the McAuliffe-Shepard Discovery Center in Concord, NH. Over the years, this annual event has hosted hundreds of local and state-wide guests, many of whom are inspired to become longtime donors and supporters of the organization. The primary purpose of the event was to provide an introduction to the organization, its mission and recent successes, such as the installation of an adaptive playground on campus. During breakfast, Senator Andrew Hosmer, NH District 7, presented a NH State Senate resolution and acknowledgement of Gary Lavallee, a 39+ year Spaulding employee. In addition, the event program included a compelling and informative presentation regarding the critical technology needs for this unique population.
Garrett Lavallee, Spaulding Youth Center's Assistant Principal, presented at the event, sharing his professional insights, personal experiences and Spaulding's current population's needs. "Technology doesn't know the challenges our students face. Technology doesn't understand the learning disabilities that our students might struggle through. It doesn't know the socioeconomic status that they might come from. But it does provide an opportunity to level the
playing field for our students," shared Mr. Lavallee. "In fact, using this technology for some of our students will be the only way they'll ever be able to tell their mom and dad that they love them." Shown in picture 1 (L to R) James Clements, Gary Lavallee, Senator Andrew Hosmer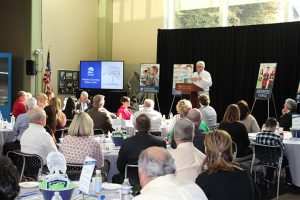 Initial sponsorships and donations leading up to the event demonstrated supporters' enthusiasm for the initiative, which CEO and President James Clements hopes will continue. "In this day and age, relevant and useful technology is a requirement to facilitate a promising future for our students," Mr. Clements shared. "Therefore, providing each Spaulding student with technology is a fundamental component of our mission to help young people with autism or other developmental and/or behavioral challenges learn the academic and life skills needed to be successful in their homes, schools and communities."
To support the Learning Without Limits technology initiative, Spaulding is welcoming donations by mail and online. To make a contribution by mail, send donations written to Spaulding Youth Center Foundation to 72 Spaulding Road, Northfield, NH 03276. Spaulding also offers secure and easy online giving opportunities at http://spauldingyouthcenter.org/give by selecting Learning Without Limits from the allocation options. More details about this kick-off event are available on the Spaulding Youth Center website: http://spauldingyouthcenter.org/lwl
About Spaulding Youth Center
Spaulding Youth Center is a leading provider of services for children and youth with neurological, emotional, behavioral, learning and/or developmental challenges including Autism Spectrum Disorder. Services include academic, behavioral health, residential, foster care, health and wellness and family support. Spaulding Youth Center Foundation is a taxexempt 501 (c)(3) nonprofit. For information about Spaulding Youth Center, visit www.spauldingyouthcenter.org.
Interested in Learning More About Our Vibrant Campus?
If you are interested in an insider's view of a day in the life of Spaulding Academy & Family Services, we recommend visiting our online photo gallery or our video gallery. These are updated weekly so keep checking back for more great Spaulding moments!