Spaulding Youth Center Hosts National Foster Care Month Celebration
May 15, 2018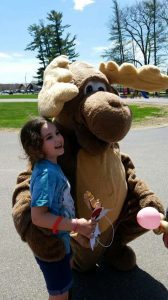 Spaulding Youth Center was pleased to serve as the host location for the seventh consecutive year for the 12th Annual National Foster Care Month Celebration on Saturday, May 5th. The 2018 celebration was planned and presented by the New Hampshire Division of Children, Youth and Families (DCYF) in cooperation with Bethany Christian Services of New England. Foster and adoptive families from across New Hampshire were invited to attend this event filled with outdoor activities in celebration of National Foster Care Month.
Over 350 guests and volunteers attended the event and enjoyed the beautiful spring day on Spaulding's picturesque Northfield, New Hampshire campus. Volunteers included the Franklin Elks Lodge 1280, who generously donated food and grilled a delicious barbecue lunch, and Faith Bridge Church and Movement Church, who together brought over 40 volunteers to help facilitate the event. Several generous organizations donated valuable items for the families in attendance, including: Operation Christmas Joy who donated 17 tablets for teens; Merrimack Mortgage, Costco and Mattress Firm who donated stuffed animals for all the children; Rise Again Ministries who brought clothing for families; and, an anonymous donor who provided ten new bikes. Leading up to the event, Sheryl Tedford of Granite State College also helped to coordinate invitations for registration.
"Spaulding Youth Center is honored to have hosted this special event for the past seven years," shared Pat Seaward-Salvati, Spaulding Youth Center Director of Admissions. "This event serves as a wonderful opportunity for foster and adoptive families from across the state to come together and celebrate. As a licensed Child-Placing Agency, Spaulding Youth Center is excited to host this event and witness the heart-warming results of the service we provide to children and families."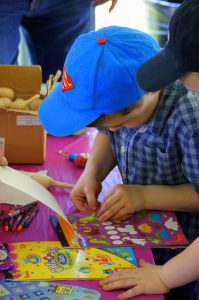 Event registration began at 10:00am, followed by opening remarks made by Jan Peightell of Bethany Christian Services of NE, Inc., Brady Serafin, Bureau Chief for the NH Bureau of Community, Family and Program Support, Stephanie Sullivan, President of NH Foster & Adoptive Parent Association, and Pat Seaward-Salvati. From there, participants enjoyed a wide variety of activities offered by Bethany Christian Services of New England, Camp Hawk Eye, DCYF, Moe Fun the Clown, Therapy Dogs International Chapter 205 and much more. Attendees also had the opportunity to create arts and crafts, enjoy face painting, jump in the bouncy house, and enjoy treats such as popcorn, cotton candy and ice cream. CLiF storyteller and author Simon Brooks attended the event as a guest reader and generously gifted every child present with a brand-new book. Children also enjoyed keeping active on the cargo net setup in the gym by Spaulding Youth Center's Experiential Challenges Outdoors (EChO) program facilitators. Special thanks to Carol Sanborn, Spaulding Youth Center's Recruitment and Licensing Specialist, who dedicated countless hours of energy and coordination to make this event another success.
For those interested in learning more about foster and adoptive opportunities, please contact Dawn Fontaine at DFontaine@SpauldingYouthCenter.org or 603-286-8901 x285.
About Spaulding Youth Center
Spaulding Youth Center is a leading provider of services for children and youth with neurological, emotional, behavioral, learning and/or developmental challenges, including Autism Spectrum Disorder. Services include academic, behavioral health, residential, foster care, health and wellness and family support. Spaulding Youth Center is a tax-exempt 501(c)(3) nonprofit. For information about Spaulding Youth Center, visit www.spauldingyouthcenter.org.
Interested in Learning More About Our Vibrant Campus?
If you are interested in an insider's view of a day in the life of Spaulding Academy & Family Services, we recommend visiting our online photo gallery or our video gallery. These are updated weekly so keep checking back for more great Spaulding moments!