Spaulding Youth Center Hosts Friends of Spaulding Summer Celebration
September 05, 2019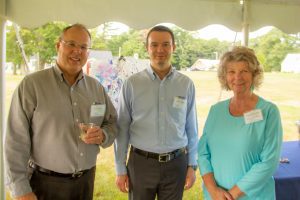 Northfield, NH – Spaulding Youth Center was excited to host a special event on its scenic Northfield, New Hampshire campus.
The Friends of Spaulding Summer Celebration served as an opportunity for donors and supporters to reconnect as well as an opportunity to meet the Spaulding leadership team. Guests enjoyed light refreshments as they networked and learned more about further opportunities to advocate for the organization's mission and children it serves. Attendees included private donors, corporate sponsors, current and previous board members, staff members, and a handful of new acquaintances invited by Friends of Spaulding. Alumni and some current students also joined in the festivities. The purpose of the Friends of Spaulding event was to celebrate those individuals and companies who consistently support the organization through direct donations and sponsorships, which are the backbone of Spaulding's fundraising.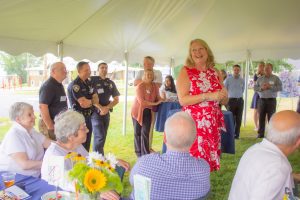 "On behalf of Spaulding Youth Center, I was thrilled to welcome the Friends of Spaulding to campus for this special event," said Cheryl Avery, Spaulding Youth Center's Director of Development & Community Relations. "The afternoon served as a wonderful opportunity for our faculty, staff and supporters to come together in honor of the children we serve. Since public funding covers only 90% of essential living, clinical and educational expenses, every donated dollar has profound impacts for each child on campus. The generosity and passion demonstrated by the Friends of Spaulding for our organization's mission is inspiring."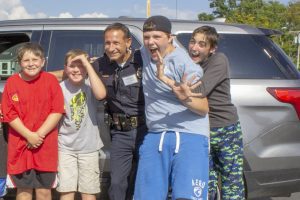 Financial support of Spaulding Youth Center helps provide vitally needed resources for children and youth. Beyond providing lasting childhood memories, donations support learning new skills and positive behaviors which will enable our children to lead meaningful and productive lives. To learn more about how to fulfill your professional or personal giving goals by supporting Spaulding Youth Center's mission, please visit /giving.
About Spaulding Youth Center
Spaulding Youth Center is a leading provider of services for children and youth with neurological, emotional, behavioral, learning and/or developmental challenges, including Autism Spectrum Disorder and those who have experienced significant trauma, abuse or neglect. Services include academic, behavioral health, residential, foster care, health and wellness and family support. Spaulding Youth Center is a tax‐exempt 501(c)(3) nonprofit. For information about Spaulding Youth Center, visit www.spauldingyouthcenter.org.
Interested in Learning More About Our Vibrant Campus?
If you are interested in an insider's view of a day in the life of Spaulding Academy & Family Services, we recommend visiting our online photo gallery or our video gallery. These are updated weekly so keep checking back for more great Spaulding moments!