Spaulding Youth Center Hosts Annual Thanksgiving Luncheon
November 21, 2018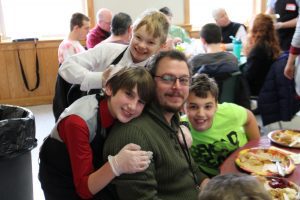 Spaulding Youth Center hosted their annual Thanksgiving luncheon on campus for all students, campus staff, supporters, community partners and friends. Starting at 4:00am, the Spaulding Youth Center Dining Services department prepared a traditional turkey dinner with all the trimmings. The festive meal was then proudly served with enthusiasm by Spaulding Youth Center students.
This annual Thanksgiving feast is a favorite tradition for those both on- and off-campus. Its popularity is demonstrated by the sheer number in attendance. This year, the Thanksgiving dinner accommodated 240 attendees, a total of 86 students and 154 staff and guests, over three separate seating opportunities throughout the afternoon. To feed these attendees, the Dining Services department used:
Six whole turkeys and eight turkey breasts
Five 3lb stuffing bags
Ten 26oz potato bags
Eight 2.5lb peas & onions bags
Twelve 4lb squash bags
Five 7.5oz cranberry sauce cans
275 dinner rolls
217 pieces of apple, pumpkin and pecan pie
"The annual Thanksgiving feast on campus is a special way for students, staff and community supporters to spend time together celebrating this wonderful time of year," said Susan C. Ryan, President & CEO of Spaulding Youth Center. "This event provides an opportunity for all of us to take the time from our bustling day and reflect on all the ways Spaulding Youth Center positively contributes to the lives of those on and off campus. Our students always look forward to celebrating this time-honored tradition with their friends and our holiday guests."
About Spaulding Youth Center
Spaulding Youth Center is a leading provider of services for children and youth with neurological, emotional, behavioral, learning and/or developmental challenges, including Autism Spectrum Disorder and those who have experienced significant trauma, abuse or neglect. Services include academic, behavioral health, residential, foster care, health and wellness and family support. Spaulding Youth Center is a tax-exempt 501(c)(3) nonprofit. For information about Spaulding Youth Center, visit www.spauldingyouthcenter.org.
Interested in Learning More About Our Vibrant Campus?
If you are interested in an insider's view of a day in the life of Spaulding Academy & Family Services, we recommend visiting our online photo gallery or our video gallery. These are updated weekly so keep checking back for more great Spaulding moments!