Spaulding Youth Center Hosts Annual Multicultural Celebration
December 26, 2018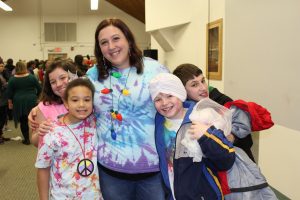 Spaulding Youth Center hosted its annual Multicultural Celebration on its Northfield, New Hampshire campus on Friday, December 21st. In its eleventh year, this annual event celebrates holiday customs from around the world.
Leading up to the celebration, each of the twelve classrooms at the School at Spaulding Youth Center conducted extensive research to explore one specific custom to present at the celebration. The classroom then developed a unique and creative expression to share their findings. This year's presentations included India's Diwali or Festival of Lights, Iceland's Yule Lads and Yule Cat, Bhakti Fest, the Hindu Holi Celebration, Italy's Pärtē, Puerto Rican Christmas, Native American customs and United Kingdom World Peace Day.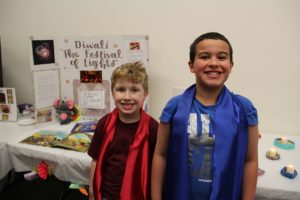 "The Annual Multicultural Celebration is one of our most anticipated events here on campus," said Susan C. Ryan, President & CEO of Spaulding Youth Center. "Students demonstrate a tremendous amount of effort and dedication while researching and preparing for their presentations. As always, I am so impressed with what our children are able to accomplish with their creative presentations – not only as a classroom but also many students exhibit remarkable individual success during the celebration. Presenting in front of hundreds of audience members is not easy and it is a truly inspirational event."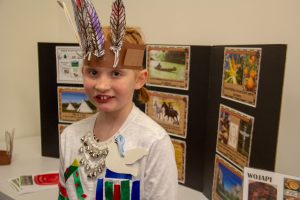 Family, friends and supporters were invited to attend and all look forward to the Spaulding Multicultural Celebration. Since the Spaulding students select holidays from cultures around the world, everyone has an opportunity to discover and appreciate a wide variety of customs. The event also offers parents the opportunity to watch their child thrive in an integrated educational activity in ways that were not possible before their child enrolled at Spaulding Youth Center.
About Spaulding Youth Center
Spaulding Youth Center is a leading provider of services for children and youth with neurological, emotional, behavioral, learning and/or developmental challenges, including Autism Spectrum Disorder and those who have experienced significant trauma, abuse or neglect. Services include academic, behavioral health, residential, foster care, health and wellness and family support. Spaulding Youth Center is a tax-exempt 501(c)(3) nonprofit. For information about Spaulding Youth Center, visit www.spauldingyouthcenter.org.
Interested in Learning More About Our Vibrant Campus?
If you are interested in an insider's view of a day in the life of Spaulding Academy & Family Services, we recommend visiting our online photo gallery or our video gallery. These are updated weekly so keep checking back for more great Spaulding moments!