Spaulding Youth Center Hosts Annual Fall Fest in Preparation for New Hampshire Pumpkin Festival
November 04, 2019
Northfield, NH – Spaulding Youth Center was delighted to hold its 3rd Annual Fall Fest for its residential students. Through this fun seasonal event, students and staff celebrated the fall season and prepared for their participation in the New Hampshire Pumpkin Festival in Laconia, NH.
Reinhart Foodservice graciously donated four large boxes filled with farm-fresh pumpkins to Spaulding's Northfield campus for the event. The Spaulding employee-managed events committee planned the Fall Fest activities, including carving and painting pumpkins, arts and crafts, cookie decorating and more. Once the pumpkins were carved, painted and ready for public display, Spaulding staff transported them to the 2019 New Hampshire Pumpkin Festival where they were included in the festival's famous 54-foot Tower of Jack-o-Lanterns.
"Thanks to the generosity of Reinhart Foodservice, our residential students had a wonderful afternoon embracing the spirit of fall by carving and decorating pumpkins," said Cheryl Avery, Development & Community Relations Director of Spaulding Youth Center. "Spaulding's annual Fall Fest is an example of one of our beloved campus events that encourage students to work together, use their imaginations and have fun in a safe and positive setting. This event has been held for the past three years in preparation for the New Hampshire Pumpkin Festival. By participating in events like this, our students strengthen their social skills, build self‐confidence and feel like an important part of their community."
Visit https://www.nhpumpkinfestival.com/ to learn more about the New Hampshire Pumpkin Festival.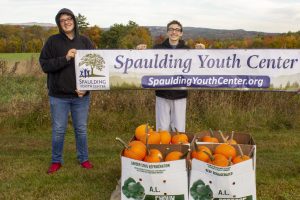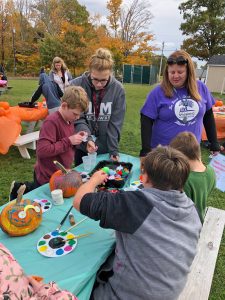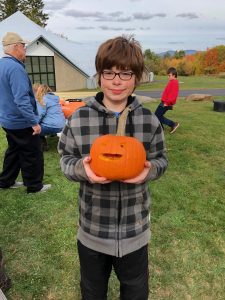 About Spaulding Youth Center
Spaulding Youth Center is a leading provider of services for children and youth with neurological, emotional, behavioral, learning and/or developmental challenges, including Autism Spectrum Disorder and those who have experienced significant trauma, abuse or neglect. Services include academic, behavioral health, residential, foster care, health and wellness and family support. Spaulding Youth Center is a tax-exempt 501(c)(3) nonprofit. For information about Spaulding Youth Center, visit www.spauldingyouthcenter.org.
Interested in Learning More About Our Vibrant Campus?
If you are interested in an insider's view of a day in the life of Spaulding Academy & Family Services, we recommend visiting our online photo gallery or our video gallery. These are updated weekly so keep checking back for more great Spaulding moments!