Spaulding Youth Center Hosts Annual Employee Appreciation Day
September 10, 2019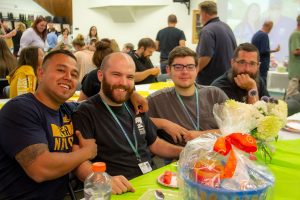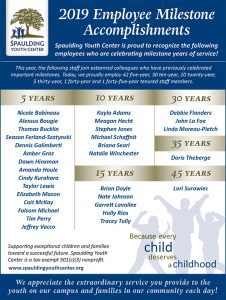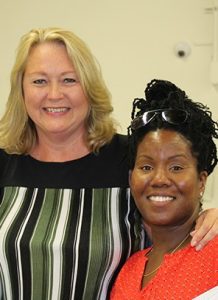 Northfield, NH – Spaulding Youth Center recently held its annual Employee Appreciation Day in the community center of its Northfield, New Hampshire campus. All Spaulding employees were invited to attend the fun‐filled afternoon and the appreciation event was extended to provide an opportunity for all departments to attend.
The event included a full luncheon, raffle prizes, and employee gifts, all designed to demonstrate appreciation of the hard work and dedication of the organization's faculty and staff. The event also included recognition of those employees celebrating longevity milestones in 2019 of 5 years, 10 years, 15 years, 30 years, 35 years and 45 years. These staff members received a pin and certificate commemorating their achievement as well as a copy of a local newspaper containing a public acknowledgement ad celebrating their accomplishment.
"Spaulding Youth Center is a truly great place to work and serves as a large employer for professionals residing in Merrimack County," said Lys Miller‐Drake, Director of Human Relations & Employee Engagement at Spaulding Youth Center. "This event allows us to honor and celebrate our staff – whether they are brand new to the organization or have been here for 45 years – for their continuous hard work and dedication to the mission of our organization through supporting the children and families we serve every day."
Spaulding is proud that so many of its employees have dedicated large portions, or in some cases their entire career, to its mission of supporting exceptional children and families toward a successful future. Currently, the organization employs 42 five‐year, 30 ten‐year, 10 twenty-year, 5 thirty‐year, 1 forty‐year and 1 forty‐five‐year tenured staff members.
Spaulding Youth Center staff is comprised of highly trained, experienced and compassionate professionals who share a commitment to excellence in providing quality services to the organization's children and their families. To review current openings and apply to join the Spaulding team, please visit www.spauldingyouthcenter.org/careers.
About Spaulding Youth Center
Spaulding Youth Center is a leading provider of services for children and youth with neurological, emotional, behavioral, learning and/or developmental challenges, including Autism Spectrum Disorder and those who have experienced significant trauma, abuse or neglect. Services include academic, behavioral health, residential, foster care, health and wellness and family support. Spaulding Youth Center is a tax‐exempt 501(c)(3) nonprofit. For information about SpauldingYouth Center, visit www.spauldingyouthcenter.org.
Interested in Learning More About Our Vibrant Campus?
If you are interested in an insider's view of a day in the life of Spaulding Academy & Family Services, we recommend visiting our online photo gallery or our video gallery. These are updated weekly so keep checking back for more great Spaulding moments!