Spaulding Youth Center Hosts 32nd Annual Arts Festival
June 06, 2019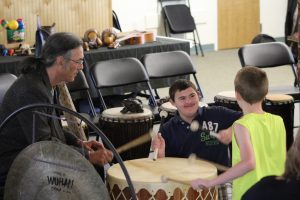 Click here to watch our video of the 2019 Spaulding Arts Festival!
Spaulding Youth Center is pleased to announce the success of its Annual Arts Festival. The event is a campus-wide celebration of arts and theatre and provides students the opportunity to learn about the various aspects of theater, including acting, writing and performing songs as well as participating in set and costume design. This year's event theme was My Own Two Hands, and our students were challenged to express how they can change the world with their own two hands.
Andrew Raeside and Robyn Allen, Arts Festival producers, worked diligently to plan every detail of the event. Both producers along with two special guest artists, Randy Armstrong and Michael Zerphy, met with students regularly to work on their festival projects. Mr. Armstrong is a multi-instrumentalist, award-winning musician, composer and teaching artist. Mr. Zerphy blends physical comedy, storytelling and clowning into a delightful program for all ages. The event producers and special guest artists created truly captivating performances of authentic music, art and theater representing many cultures around the world, such as West African drumming and Native American dancing. The Spaulding students, staff, families and other audience members joined Susan C. Ryan, President & CEO of Spaulding Youth Center, for a feel-good sing-along of My Own Two Hands to conclude the program.
The primary goal of the festival is to create a performance that allows each student to participate in the event in a way that is most comfortable to them. Students had the option to sing, play an instrument, act, or assist with set building and costume design – all equally important aspects of putting on a successful show.
"It was wonderful to see students and staff work together to make our 32nd Annual Arts Festival a success," said Colleen Sliva, School Principal & Special Education Director of Spaulding Youth Center. "This event is a great example of the importance of integrating arts programming into the educational curriculum. By participating in this beloved annual event, our students gain confidence and motivation which will serve them for years to come."
For those interested in sponsoring the Arts Festival, another annual event, or donating toward a specific academic or extracurricular interest, contact the Director of Development & Community Relations at 603-286-8901 ext. 107 or Donate@SpauldingYouthCenter.org.
About Spaulding Youth Center
Spaulding Youth Center is a leading provider of services for children and youth with neurological, emotional, behavioral, learning and/or developmental challenges, including Autism Spectrum Disorder and those who have experienced significant trauma, abuse or neglect. Services include academic, behavioral health, residential, foster care, health and wellness and family support. Spaulding Youth Center is a tax-exempt 501(c)(3) nonprofit. For information about Spaulding Youth Center, visit www.spauldingyouthcenter.org.
Interested in Learning More About Our Vibrant Campus?
If you are interested in an insider's view of a day in the life of Spaulding Academy & Family Services, we recommend visiting our online photo gallery or our video gallery. These are updated weekly so keep checking back for more great Spaulding moments!