Spaulding Youth Center Hosts 10th Annual National Foster Care Month Celebration
May 12, 2016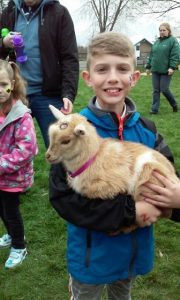 Spaulding Youth Center was proud to serve as the host location for the fifth consecutive year for the 10th Annual National Foster Care Month Celebration on Saturday, May 7th. The celebration is planned and presented by the New Hampshire Division of Children, Youth and Families in cooperation with Bethany Christian Services of New England. To kickoff May as National Foster Care Month, foster and adoptive families from across New Hampshire were invited to attend this celebration and partake in this fun outdoor event.
"Spaulding Youth Center is thrilled to continue our support of this state‐wide celebration," shared Pat Seaward‐Salvati, Director of Admissions. "As a licensed child placement and child care agency, Spaulding is a perfect fit as a venue for this popular annual event. Each year, we are excited to see the number of families, supporters and volunteers increase." Final tallies from Saturday indicate another attendance increase with nearly 300 guests and volunteers, including the Franklin Elks Lodge 1280 who donated food and meal preparation for all participants. Various vendors also donated prizes, including 15 bikes.
Starting at 10:30am, the Annual National Foster Care Month Celebration registration opened, welcoming invited guests to the Spaulding Youth Center campus. From there, participants could enjoy a wide variety of activities offered by Author and Storyteller Simon Brooks, Squam Lake Science Center, Buster's Balloon Animals,
Camp Hawk Eye, Life is Good Playmakers, Rise Again Clothing Bus, and the 4‐H Petting Zoo. Attendees could learn how to play chess, have their face painted, style hair, paint nails, jump in the bouncy house, take a family photo, complete arts and crafts, interact with exotic animals, watch a spinning wheel demonstration, and more. New this year and the highlight of the event was the Parade of Party Animals lead by the Spaulding Moose!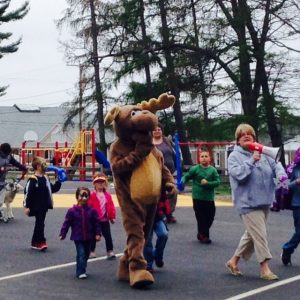 For those interested in learning more about foster and adoptive opportunities, Spaulding Youth Center will be hosting a summer schedule beginning June 2nd of Foster and Adoptive Care Essentials (FACES). FACES is a series of free workshops to provide training to the general public. The training is offered by Granite State College Education & Training Partnership and is hosted at Spaulding Youth Center at 72 Spaulding Road, Northfield. Interested individuals can sign‐up for one module or the whole series, and online registration can be completed at http://etp.granite.edu/schedule/faces. For questions or more information on FACES, please contact Dawn Fontaine at DFontaine@SpauldingYouthCenter.org or 603-286-8901 x285.
About Spaulding Youth Center 
Spaulding Youth Center is a leading provider of services for children and youth with neurological, emotional, behavioral, learning and/or developmental challenges including Autism Spectrum Disorder. Services include academic, behavioral health, residential, foster care, health and wellness and family support. For information about Spaulding Youth Center, visit www.spauldingyouthcenter.org.
Interested in Learning More About Our Vibrant Campus?
If you are interested in an insider's view of a day in the life of Spaulding Academy & Family Services, we recommend visiting our online photo gallery or our video gallery. These are updated weekly so keep checking back for more great Spaulding moments!