Spaulding Youth Center to Host Fall Fundraiser
September 11, 2017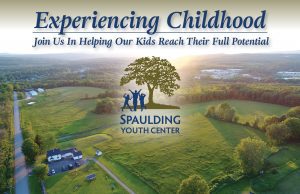 Northfield, NH – Spaulding Youth Center is excited to announce our annual fundraiser event Experiencing Childhood to benefit our flagship Experiential Challenges Outdoors (EChO) program on Wednesday, October 11th from 8:00am-9:30am at the Holiday Inn on 172 N. Main Street in Concord, New Hampshire.
The Experiencing Childhood event is a breakfast fundraiser designed to bring Spaulding Youth Center faculty, staff and supporters together for a morning filled with learning, networking and fun. All proceeds made from fundraiser ticket sales will go directly to enhance Spaulding Youth Center's EChO program, which gives students the opportunity to experience learning by participating in outdoor adventures, such as kayaking, hiking and snow-shoeing.
Frank Edelblut, New Hampshire Department of Education Commissioner, is scheduled to attend and present an opening address to event attendees. The event will also include presentations from EChO staff, a demonstration of how adaptive equipment is used to offer access to every child, and an award presentation to long-time supporters. Tickets are $20.00 and include a full hot breakfast.
"We are looking forward to this important fundraising event," said Susan Ryan, Chief Executive Officer & President at Spaulding Youth Center. "Our students and residents are the heart of Spaulding Youth Center, and our EChO program is a wonderfully unique component of our educational program that the kids really love. Holding an event to raise funds for our experiential learning program will spread awareness about our robust curriculum, celebrate our beautiful campus and its natural features, and our collective dedication to helping our kids reach their full potential."
For more information on Spaulding Youth Center's EChO program, visit /programs-services/experiential-challenges-outdoors/.
To purchase tickets for this event, experiencing-childhood.eventbrite.com or by calling 603-286-8901 ext. 535.
About Spaulding Youth Center
Spaulding Youth Center is a leading provider of services for children and youth with neurological, emotional, behavioral, learning and/or developmental challenges including Autism Spectrum Disorder. Services include academic, behavioral health, residential, foster care, health and wellness and family support. Spaulding Youth Center Foundation is a tax-exempt 501 (c)(3) nonprofit. For information about Spaulding Youth Center, visit www.spauldingyouthcenter.org.
Interested in Learning More About Our Vibrant Campus?
If you are interested in an insider's view of a day in the life of Spaulding Academy & Family Services, we recommend visiting our online photo gallery or our video gallery. These are updated weekly so keep checking back for more great Spaulding moments!