Spaulding Youth Center Honored with Grant from the Children's Literacy Foundation to Host Campus Event
December 04, 2019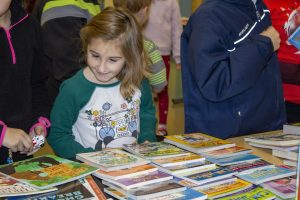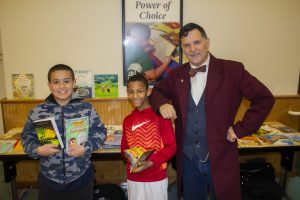 Northfield, NH – Spaulding Youth Center is excited to announce it was honored with the At-Risk Children grant from the Children's Literacy Foundation (CLiF). The grant included a storytelling event with one of CLiF's professional storytellers, a discussion on the importance of reading together, tips for helping children develop strong literacy skills, a new onsite library of children's books and two new books for each student.
Spaulding was thrilled to host the storytelling session presented by Simon Brooks, acclaimed British storyteller with a tie to New Hampshire communities. The Spaulding School students attended one of two sessions, which included a lively discussion about reading adventures and an interactive storytelling experience with Mr. Brooks.
Following the session, the students were invited to peruse five tables stacked with hundreds of age appropriate titles to hand-pick two books which they could keep. Spaulding students were especially excited about choosing their own selections, not only to have something of their very own, but also to have the leisure to foster their own interests and autonomy to make their own choices. In addition, the CLiF At-Risk Children grant also awarded $2,000.00 in books to supplement Spaulding Youth Center's media center.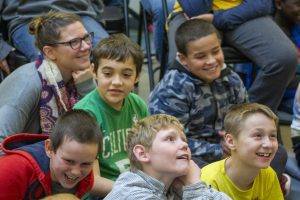 "Spaulding is thrilled to receive this grant from the Children's Literacy Foundation," said Susan C. Ryan, President & CEO of Spaulding Youth Center. "This literacy program was an incredibly positive experience for our students. Many of our special education students struggle with reading due to behavioral difficulties that could be compounded or intensified by learning disabilities. The CLiF At-Risk Children grant encouraged reading through a fun and interactive storytelling presentation and inspired our students to continue fostering their love for books."
The Children's Literacy Foundation is a nonprofit organization whose mission is to inspire a love of reading and writing among children up to age 12 throughout New Hampshire and Vermont. Since 1998, CLiF has served 250,000 low-income, at-risk, and rural children in 400 communities across every region of the Twin States.
Visit https://clifonline.org/ to learn more about the Children's Literacy Foundation.
About Spaulding Youth Center
Spaulding Youth Center is a leading provider of services for children and youth with neurological, emotional, behavioral, learning and/or developmental challenges, including Autism Spectrum Disorder and those who have experienced significant trauma, abuse or neglect. Services include academic, behavioral health, residential, foster care, health and wellness and family support. Spaulding Youth Center is a tax-exempt 501(c)(3) nonprofit. For information about Spaulding Youth Center, visit www.spauldingyouthcenter.org.
Interested in Learning More About Our Vibrant Campus?
If you are interested in an insider's view of a day in the life of Spaulding Academy & Family Services, we recommend visiting our online photo gallery or our video gallery. These are updated weekly so keep checking back for more great Spaulding moments!