Spaulding Youth Center Honored with $10,000 Grant from Doug Flutie, Jr. Foundation for Autism
February 19, 2020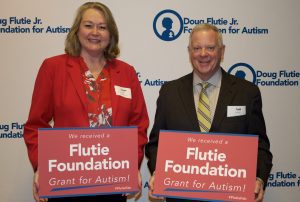 Manchester, NH – Spaulding Youth Center is thrilled to announce it has been honored with a grant of $10,000.00 from the Doug Flutie, Jr. Foundation for Autism. The grant will directly support Spaulding's initiative to implement a physical fitness program for students with autism.
The physical fitness program will include the hiring of a fitness professional who will complete the Autism Fitness Level 1 Certification from Autism Fitness® and then work with Spaulding staff to design a ten-week, biweekly program for students ages 5 to 21. This fitness professional will also work directly with staff to develop different strategies to use with autistic students in settings outside of the fitness class.
"The generous support of the Doug Flutie, Jr. Foundation for Autism will make a significant impact on our organization and in the lives of the children we serve, 60% or more of whom are on the Autism spectrum" said Susan C. Ryan, President & CEO of Spaulding Youth Center. "Spaulding Youth Center provides a robust collection of services for children and youth with special needs. As we continuously strive to develop new opportunities for our students, we've always embraced the importance of having a physical movement program designed specifically to meet the needs those diagnosed with autism. This grant will support this new program and help these special children develop essential skills and abilities that will transfer into their everyday lives."
"The Flutie Foundation Signature Grants help our partner agencies address a variety of significant needs in the autism community," says Nick Savarese, Executive Director of The Doug Flutie Jr. Foundation for Autism. "Programs like Spaulding Youth Center are helping people on the autism spectrum live life to the fullest and we are proud to support their efforts." The Doug Flutie, Jr. Foundation for Autism, based in Framingham, MA, awards grants annually through a competitive application and review process. The signature grants that the Flutie Foundation distributed this year support traditionally under-served, under-funded, culturally diverse communities reflected in the Foundation's areas of interest; providing a path for educational and vocational skills, supporting recreational and active lifestyles, and ensuring people with autism are safe, supported and informed.
About Spaulding Youth Center
Spaulding Youth Center is a leading provider of services for children and youth with neurological, emotional, behavioral, learning and/or developmental challenges, including Autism Spectrum Disorder and those who have experienced significant trauma, abuse or neglect. Services include academic, behavioral health, residential, foster care, health and wellness and family support. Spaulding Youth Center is a tax-exempt 501(c)(3) nonprofit. For information about Spaulding Youth Center, visit www.spauldingyouthcenter.org.
About the Doug Flutie, Jr. Foundation for Autism
The Doug Flutie Jr. Foundation for Autism (DFJFA) is a not-for-profit 501(c)(3) public benefit corporation helping families affected by autism live life to the fullest. Through programs and partnerships, DFJF helps people with autism get access to care; lead more active lifestyles; and grow toward adult independence. NFL Quarterback Doug Flutie and his wife Laurie, whose personal experience raising a son on the autism spectrum inspired their passion to help other families, established the Foundation in 1998. DFJFA primarily serves families throughout New England, New York, New Jersey, and Central Florida. For more information on The Doug Flutie, Jr. Foundation for Autism, visit www.flutiefoundation.org.
Interested in Learning More About Our Vibrant Campus?
If you are interested in an insider's view of a day in the life of Spaulding Academy & Family Services, we recommend visiting our online photo gallery or our video gallery. These are updated weekly so keep checking back for more great Spaulding moments!